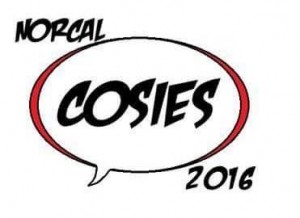 The Nor-Cal Cosies is hosting a unique contest that has only been done once before. They are taking some of the ideas and models from the event that took place in Chicago recently and turning it into a proud Central Valley event with a comprehensive judging system, and giving focus to the small businesses in the area.
The NorCal Cosies, the brain child of Mod-Con Vice President and local resident of Newman Carrie Shea, is one that has potential to become a phenomenon across the state. With the release of our beloved Marvel movies, the rebirth of franchises such as Jurassic Park, Star Wars, and Mad Max we have entered an era in pop culture where "geeky" and "nerdy" things are in style. One of the most popular aspects of a convention such as the San Diego Comic Con is dressing up and acting as like our favorite fictional characters and taking pictures and showing off your hard work on the costume and your passion. That practice is called cosplay, and it has been sweeping the country by storm.
The Cosies is an event to raise awareness of Modesto Convention Corporation, and a determined amount of profit will be donated to the Haven Women's Shelter of Modesto.
They are creating an event unlike any other. With the support of the city of Newman, not only will they have the first "nerd" or "geek" street con for the city, but they will be putting Newman on the map.


National Cosplay Day 2015, sponsored by Mod-Con
Categories for competition are:
Children
Teens
Adults
Over 30
Plus size
Groups
Hair and makeup
Craftsmanship
Photography
Professional Cosplayer
If you would like to enter, fill out the application on the facebook page. Entry fee is $5 for 3 photos. They accept paypal, so head over now to like their page for updates, and to download your application now! 
Comments
comments
Bring on the rain, and a bottle of Wonky & Wry's Honey Braggot Ale. Loves to roast marshmallows over a fire. Enjoys the mix of cigars and whiskey.