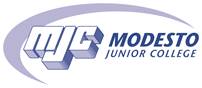 (Modesto, CA) – Modesto Junior College will hold its 93rd Commencement Ceremony on Friday, May 1 at 6 p.m. in the Stadium on East Campus.  A reception for MJC graduates and their guests will be held immediately following the graduation ceremony in the Student Center Rotunda.  Both the ceremony and reception are free and open to the public.
MJC will have awarded an approximate total of 1,600 associates degrees to 1,400 individuals during the 2014-2015 academic year, pending recipients' successful completion of the spring semester. Additionally, 600 certificates of achievement will be awarded to 500 students for this academic year.  Approximately 400 of these graduates plan to participate in MJC's annual Commencement Ceremony.
Addressing the Class of 2015 will be graduating student Peter Quiales.  A native of Modesto, Quiales studied business, accounting and communication studies at MJC and is a member of the MJC Psychology Club.
Student soloist Haimish Chandra will sing the national anthem, and music by the MJC Combined Symphonic and Concert Bands, under the direction of Professor Erik Maki, will highlight the ceremony.
The graduation program will feature the presentation of the 2015 MJC Distinguished Alumni Award to Harold A. Peterson III, former chief executive officer and president of Community Hospice.
Additional dignitaries on the platform will include Jill Stearns, MJC president; Brenda Thames, vice president of student services; Albert Alt, vice president of college administrative services; George Boodrookas, dean of advancement and executive director of the MJC Foundation; James Todd, president of MJC Academic Senate; Joan Smith, chancellor of the Yosemite Community College District; Anne DeMartini and Linda Flores, YCCD trustees, and Andrew Campbell, YCCD student trustee.
MJC graduates and their family and friends are invited to attend the annual Graduation Luncheon on Friday, May 1 at 12 noon in the Mary Stuart Rogers Student Learning Center on West Campus.  The luncheon will feature student trustee and graduate Andrew Campbell as the keynote speaker, and the presentation of the Honors Scholar Award.  Luncheon tickets must be purchased in advance and are available for $12 in the Pirates' Bookstore on East Campus.
For more information on MJC's graduation contact the Public Information Office at (209) 575-6866.
Comments
comments
Bring on the rain, and a bottle of Wonky & Wry's Honey Braggot Ale. Loves to roast marshmallows over a fire. Enjoys the mix of cigars and whiskey.