Modesto Symphony Orchestra's Picnic at the Pops: The MSO Rocks
September 12, 2015 Grounds Open at 4pm / Concert starts at 7:30pm  at the E. & J. Gallo Winery Grounds (600 Yosemite Blvd Modesto)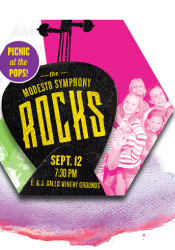 Kick off our 85th celebration season right with the return of conductor Michael Krajewski and the Modesto Symphony for this thrilling rock retrospective. This incredible lineup will truly 'rock you' with chart-topping classic hits and epic power ballads from The Beatles, The Doobie Brothers,Crosby Stills & Nash, Sting, Queen and Coldplay. Classic rock lovers of all ages will enjoy a selection of songs that include Don't Stop Believin', We Are the Champions, Every Breath You Takeand Maybe I'm Amazed. Pack your picnic basket and bring the gang to our annual outdoor concert on the grounds of the Gallo Winery.
Don't want to pack a picnic? Let one of our authorized caterers create one for you!  Boxed lunches and gourmet concert treats will be available for pick-up from our caterers' table at the concert.
Thank you in advance for not bringing outside alcohol. Bags and coolers will be checked. 
Parking Advisory
Our event hosts are undergoing an extensive campus renovation and building project.
Parking in close proximity will be limited.
Patrons attending the event are encouraged to arrive early, ride share and take advantage
of our bus transportation from the parking lots to the grounds.
Tickets: Adult reserved $57 / Youth reserved $19
Adult general $37 / Youth general $12
Get yours at the Gallo Center's Ticket Office by calling 338.2100 or visit us on-line at modestosymphony.org.
http://modestosymphony.org/picnic_at_the_pops_2015.aspx
Tickets also available at O'Briens Market, Salon Salon, Nuway Cleaners, Hilmar Gift Shop, & the E. & J. Gallo Wine Shop.
Comments
comments
Bring on the rain, and a bottle of Wonky & Wry's Honey Braggot Ale. Loves to roast marshmallows over a fire. Enjoys the mix of cigars and whiskey.