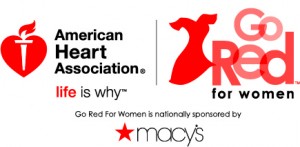 Modesto to host Go Red For Women luncheon for second straight year, snags director of Barbra Streisand's Women's Heart Center as Keynote Speaker 
Modesto Go Red For Women Luncheon scheduled for Friday, May 8 at the Double Tree by Hilton
More than 300 leaders and champions of women's heart health will join the American Heart Association's Modesto Go Red For Women Luncheon on Friday, May 8 for a day of learning and empowerment against women's leading health threats – heart disease and stroke.
Delivering the keynote will be Dr. C. Noel Bairey Merz, a decorated researcher and medical professional and a champion of women's heart health who holds many distinguished titles. She currently is Director of the Barbra Streisand Women's Heart Center, the Linda Joy Pollin Women's Heart Health Program, and the Preventive Cardiac Center at the Cedars-Sinai Heart Institute. She is also Professor of Medicine at Cedars-Sinai Medical Center.
"We are so thrilled to have Dr. Bairey Merz join us as she will bring a tremendous amount of experience and insight into women's heart health and really elevate the experience for our attendees," said Julie Gallo Vander Wall of Gallo Family Vineyards, co-chair of this year's luncheon.
"This is a major win for us as she is such a prolific speaker and she has local ties to the area, so she is really a great fit for this event and will do an excellent job in helping to promote women's heart health in the community," said Sharilyn Nelson of the Law Office of Gary C. Nelson and co-chair of the luncheon.
Dr. Bairey Merz's research interests center around women and cardiovascular disease and the roles that exercise, mental stress, stress management and nutrition play in women's heart health. She is also currently chair of the National Institutes of Health-sponsored Women's Ischemic Syndrome Evaluation (WISE) initiative, which is looking for more effective diagnosis and evaluation methods of detecting coronary artery disease in women.
"I am pleased to support women's heart health in my hometown of Modesto," said Dr. Bairey Merz.
In addition to having Dr. Bairey Merz as the keynote, the luncheon will feature a special spotlight on a local heart disease survivor who will share their inspiring story. And as always, attendees will be treated to a heart-healthy lunch and be encouraged to check out the health and beauty expo, dubbed "The Collection." There will be free health screenings, a mystery auction and lots of shopping opportunities from local vendors.
The luncheon will be emceed by Keba Arnold, morning anchor for News10.
"Heart disease and stroke kill one in three women each year, but 80 percent of cardiac events can be prevented with education and lifestyle changes," said Vander Wall.
"The theme of Go Red this year is all about making a change for better heart health, and the Go Red For Women luncheon is the perfect opportunity to help spread that message and encourage our local community to join us in making that change," said Nelson.
Scheduled for Friday, May 8, the Modesto Go Red For Women Luncheon will take place from 10:00am – 1:30pm at the Double Tree Hotel – Modesto and is presented by Gallo Family Vineyards.
For more information about the event or to learn how to become a sponsor, call the local office at 209-477-2683 or visit http://modestogoredluncheon.ahaevents.org/.
Go Red For Women is nationally sponsored by Macy's.
Comments
comments
Bring on the rain, and a bottle of Wonky & Wry's Honey Braggot Ale. Loves to roast marshmallows over a fire. Enjoys the mix of cigars and whiskey.