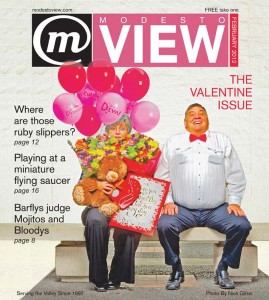 Greetings Modesto Fans: I am so excited to present the new February ModestoView.
We have an amazing cover photographed in the spirit of Norman Rockwell featuring Danny and Sandy Emfinger. ModestoView celebrates love, relationships, fun, excitement, community involvement and celebration of the good things in Modesto. We have awesome interviews with the world famous and locally born – Brett Dennen and the daughter of Judy Garland Lorna Luft and celebrate the 70 years of marriage of our own Buck and Beatrice Hudson! So many good things, right here in our town.
http://http://www.modestoview.com/the-magazine/
Enjoy our city today and everyday.
Thanks for reading, Chris Murphy chrism@modestoview.com
Comments
comments
Chris Murphy is the President and CEO of Sierra Pacific Warehouse Group and Publisher and Founder of ModestoView Inc. Chris worked globally in the cycling industry returning to Modesto in 1996. He is also the founder of the Modesto Historic Graffiti Cruise Route, Legends of the Cruise Walk of Fame, Modesto Rockin' Holiday, the Modesto Music History Organization and co-founder of the Modesto Area Music Association. Chris is married to his artist wife Rebecca since 1985 and has two daughters Madison and Abigail, both graduating from Modesto High and UC Berkeley. He is lead singer and guitarist for his band, Third Party that donates their performances to non-profits.