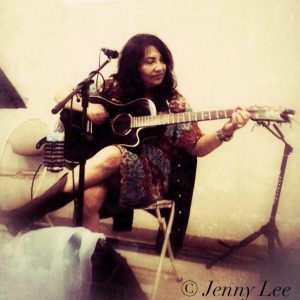 2017 November Songwriter View
 Music Appreciation
By Patty Castillo Davis
Every night of the week there is live music offered in and around the valley. Every season there are more concerts and festivals to be attended than you have the time or the funds for. Every Summer when it comes time to consider nominees for our own Modesto version of the music awards, the number of choices is mind-boggling and the task of narrowing the artists in each category to just ten is painstaking. This is the good news, this is the great news, THIS is the grateful news.
During this climate of gratitude, there is no shortage of opportunities to enjoy some great music-follow your heart and do your part. The Trifecta of giving on November 4 features three events that give you an opportunity to hear some award-winning musicians and help your community. SHARE THE WARMTH Concert and Coat Drive benefitting Interfaith Ministries is a FREE show. Hanibal Yadegar, Owner of The Barkin Dog Grill and Patty Castillo Davis will host a night of music featuring Tim Allen, Big Earl Matthews, Steve Ashman from Zasu Pitts Memorial Orchestra, Gary Nelson from Third Party and many others. Please bring a new or gently used coat. The show starts at 7 and reservations are strongly advised. The Friendsgiving Benefit Show/Food Drive at the Prospect Theater is from 6 pm to 10 pm. Admission is a can of food and $20. The lineup includes a Who's Who of MAMA nominees and is headlined by 2017 Best Americana winner Cottonwood Creek. The Modesto Elk's Lodge will hold their Teddys and Toys Benefit Show and toy drive with prelude music by Rick Barnes and Friends at 3:30, dinner at 5:30  and 7:30 kicks off dance music by Silvermoon, Blues Box Bayou Band and Flying Blind. Tickets can be purchased at the M.E.L for $25 and include dinner.
The Farmers Market is winding down but you can still enjoy fellowship, food finds, and acoustic music for 6 more weeks.
Pair your wine with Singer Songwriters at Most Wanted Wine Bar and Wood Fired Oven-Nikki and Anthony 11/3, Jordan Waters 11/10,  Me & You The Duo 11/11 and  Jordan Waters 11/17.
DEVA Sunday Breakfasts continue to serve up comfort food and great Singer-Songwriters. November brings Tim & Patty 11/5, Indy Folk 11/12, Daydream Believers 11/19 and Mattea Overstreet 11/26.
The Third Thursday Art Walk hosts music in most venues and this month Me & You The Duo will be taking the Modesto View stage from 6-9 pm at 11th and J.
 Makers of music, creators of crafts and alternative artists of all types will be displaying the fruits of their calling at the Mod Shop on Saturday, November 25, enjoy hand- born offerings of every type, strolling and busking musicians and an awe-inspiring evening out where all your friends and family can be safe, have fun and support shopping local. The Modesto View outdoor stage will host live music.
To submit Singer Songwriter events please visit pattycastillodavis.com.
Comments
comments