HOUSE FIRES SUCK FEST: A BENEFIT FOR ERIC LASALLE & FAMILY
Music Benefit for Eric Lasalle & Family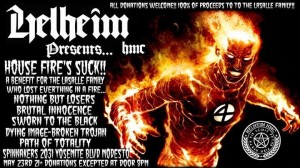 Eric and his family suffered a house fire and lost just about everything they have! They have been forced to relocate for 5 months until their home is repaired from the fire. The event will be at Spinnakers and we are asking for donations at the door. All the proceeds will be donated to the Lasalle family.
All donations accepted, whether it is can food, money, household items, etc. We will turn nothing away.
Music by:
NOTHING BUT LOSERS
SWORN TO THE BLACK
BRUTAL INNOCENCE
PATH OF TOTALITY
BROKEN TROJAN
DYING IMAGE
MAY 23RD 21+ 8PM FREE W/ DONATIONLIVE AT SPINNAKERS
2031 YOSEMITE BLVD
MODESTO
Comments
comments
Bring on the rain, and a bottle of Wonky & Wry's Honey Braggot Ale. Loves to roast marshmallows over a fire. Enjoys the mix of cigars and whiskey.