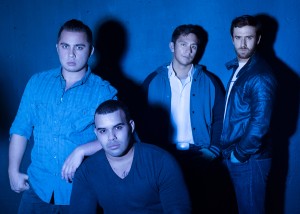 San Francisco, CA (March 2, 2015) — The sweetest revenge never ends this Spring, as New Conservatory Theatre Center's Pride On Tour presents the West Coast Premiere of the "gripping and full-blooded" From White Plains (NYTheatre.com). Written by Michael Perlman in collaboration with the original cast,Craig Wesley Divino, Karl Gregory, Jimmy King and Aaron Rossini, From White Plains explores the limits of our ability to forgive. When a young director receives international acclaim for a film based on his experience of bullying in high school, he uses his Oscar speech to out the real-life bully from his past. The lives of these two men become quickly tangled in the public eye as they see if revenge is really so sweet. From White Plains will be directed by Sara Staley, program director of YouthAware, NCTC's theatre in education outreach program, which tours Northern and Central California.
NCTC's Pride on Tour will present FromWhite Plains in Modesto, at the Gallo Center for the Arts, May 1st at 8pm. Tickets are $20, Students for $15, and are available at galloarts.org.
From White Plains is the recipient of a 2013 GLAAD Media Award after receiving critical acclaim when it premiered at Pershing Square Signature center in New York.
The New York Times declares From White Plains "bristles with suspense. There are lives hanging in the balance here, playing out in arenas both painfully intimate and glaringly public."
Time Out New York declares it a "poignant and balanced look at the psychic bruises of teenage cruelty."
NYTheatre.com proclaimed FromWhite Plainsa "gripping and full-blooded drama …so full of insight about prejudice, empathy, and the limits of forgiveness that it ought to be required viewing."
Playwright Michael Perlman is a New York based Writer and Director, and has directed at Cleveland Play House, Trinity Repertory Company, Kitchen Theatre Company, Arvada Theater Center, Boise Contemporary Theater, Creede Repertory Theater, Swine Palace, Maples Rep, Brown/Trinity Playwrights Rep and the Brown/Trinity MFA Programs, as well as workshops with The Playwrights' Center, The Magic Theater and Young Playwrights, Inc.  He recently Associate Directed Fiasco Theater's Into the Woods at the McCarter Theater, its subsequent run at Old Globe, and now playing Off-Broadway at Roundabout. In addition to From White Plains, Michael's one-person show Flying on the Wing was presented at the New York Fringe Festival, where it was the winner of Outstanding Solo Show.  Perlman is an Artistic Associate with both Fiasco Theater, and Fault Line Theatre.
Director Sara Staley has served as Director of NCTC's YouthAware Educational Theatre program since 2001, for which she received a CBS-5 Jefferson Award in 2008. She also directed productions of Standing On ceremony: the Gay Marriage Plays, The Laramie Project: Ten Years Later and The Bus, both of which were presented as part of NCTC's Pride On Tour. Sara is the Producing Artistic Director of the Bay One Acts Festival (BOA), a company member of PianoFight Productions, and has directed locally for Three Wise Monkeys Theatre, Playwrights' Center of San Francisco, Sleepwalkers Theatre, San Francisco Theater Pub, and Wily West Productions. Staley studied Theatre at UCLA.
The cast of From WhitePlains features Sal Mattos, Ed Moreno, Fernando Navales, and Nick Trengove.
Pride on Tour brings work from NCTC's San Francisco Pride Season to rural and suburban communities in Northern and Central California. Supported in part by the James Irvine Foundation, Fresno Regional Foundation and National Endowment of the Arts, Pride on Tour uses theatre as a vehicle to increase LGBT & Allied visibility, promote diversity and enhance cross-cultural understanding in regions where acceptance, inclusiveness and equity struggle against the regional status quo.
New Conservatory Theatre Center is San Francisco's premier LGBTQIA and allied performing arts institution and progressive artseducation conservatory since 1981. NCTC is renowned for its diverse range ofinnovative, high quality productions, touring productions and shows for young audiences; its foundational anti-bullying work with youth and educators throughYouthAware; and its commitment to nurturing emerging artists and playwrights to expand the canon of queer and allied dramatic work.
FromWhite Plains
FACT SHEET
WHO:  
Written by Michael Perlman in collaboration with Craig Wesley Divino, Karl Gregory, Jimmy King and Aaron Rossini
Directed by Sara Staley
Starring Sal Mattos, Ed Moreno, Fernando Navales, and Nick Trengove.
WHAT: West Coast Premiere of From White Plains
WHERE:  Gallo Center for the Arts, 1000 I St, Modesto, CA 95354
WHEN: May 1st at 8pm.
COST: $20; Students $15
TICKETS AND BOX OFFICE: http://www.galloarts.org/
Comments
comments
Bring on the rain, and a bottle of Wonky & Wry's Honey Braggot Ale. Loves to roast marshmallows over a fire. Enjoys the mix of cigars and whiskey.