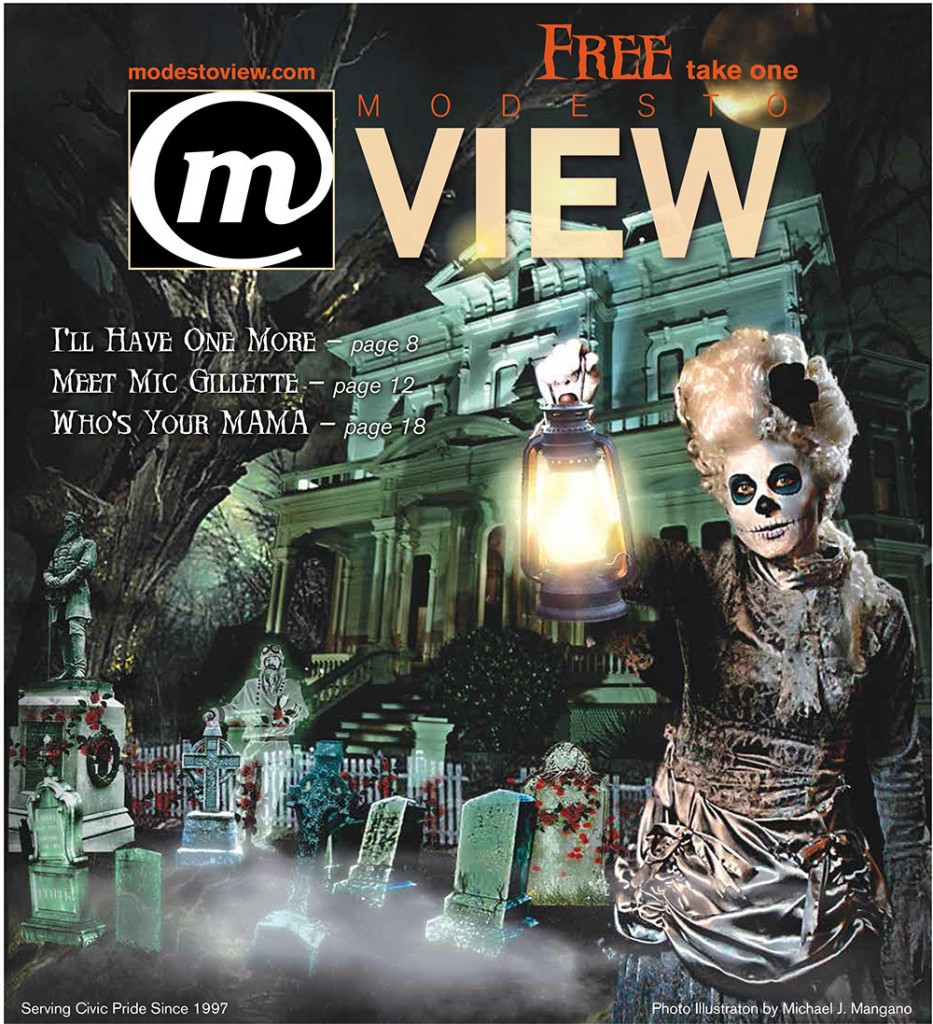 Boo! Something really creepy is coming up. Ghosts and Goblins are getting ready….the thrills and chills are coming.
The fall harvest is happening and we are getting ready for a deliciously haunted October. This is one of our favorite months as we Rocktober with MAMAs, we shriek with fear at the Summoning, we celebrate cheesiness with Cheese and Wine. There is a really interesting interview with the horn virtuoso Mic Gillette and we get a harvest fondue treat from Chef Dana. Our Bar of the month is DEWZ and our high priestess of cocktails, Kate Serpa gets the goulish treatment. We are so excited to get into the haunting season with our friend and October cover model Good Day Sacramento's Heather Brent as she is brought to "death" by Michael Mangano with make up by AmberMarie Tomson, hair by LoveCore and costumes by Daydreams & Nightmares. We appreciate Heather and the rest of the Good Day team for shining the light on Modesto so much, we gave her a cool lantern. Read our wonderful haunted ModestoView online this very minute before the night bats come out.
www.modestoview.com/the-magazine
Enjoy and Happy Haunting
Chris Murphy Chrism@modestoview.com
Comments
comments
Chris Murphy is the President and CEO of Sierra Pacific Warehouse Group and Publisher and Founder of ModestoView Inc. Chris worked globally in the cycling industry returning to Modesto in 1996. He is also the founder of the Modesto Historic Graffiti Cruise Route, Legends of the Cruise Walk of Fame, Modesto Rockin' Holiday, the Modesto Music History Organization and co-founder of the Modesto Area Music Association. Chris is married to his artist wife Rebecca since 1985 and has two daughters Madison and Abigail, both graduating from Modesto High and UC Berkeley. He is lead singer and guitarist for his band, Third Party that donates their performances to non-profits.