Oh where, oh where, can roller skating be found in the Modesto community?
Guest article by Robert Alsted
In moving to Modesto, I went looking for what opportunities I had for one of my activity passions. In a population that exceeds 200,000 I was amazed that of the eleven roller skating disciplines (roller skating options) only Skateboarding and Girls Roller Derby were my choices. Neither of which work for me personally as a skater.
I understand how the economics of the past recession could have caused for the closing of Modesto's only roller skating rink. This caused me to want to shake some money trees, searching for one or more individuals who are in a position to build a new roller skating rink.
I thought a brief review of roller skating's past and, some highlights of where roller skating currently is, might be a stimulate of some kind for those that share my interest in roller skating and would like to see more roller skating options.
In 1863 the modern quad roller skate was invented by James L. Plimpton in New York City. Shortly thereafter Plimpton opened the first recorded roller skating rink in the United States. First, a small trial rink in New York City, and shortly after a full sized rink in Newport, Rhode Island.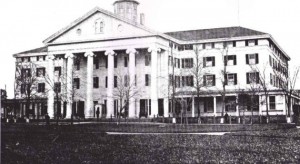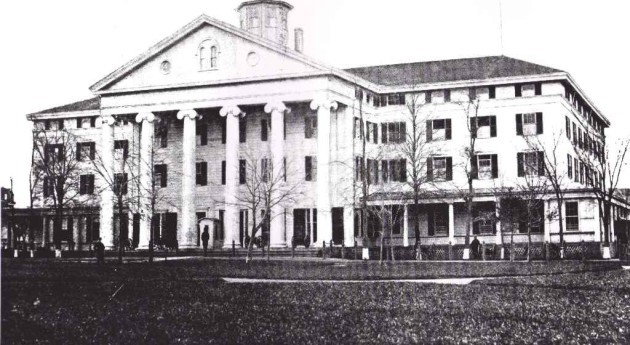 The above is the Atlantic House. It was an exclusive resort hotel in Newport Rhode Island. In 1866 James Plimpton converted the dining room into America's first roller skating rink.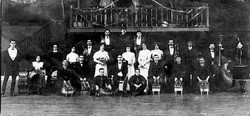 Above is the first band at James Plimpton's Atlantic House roller skating rink. Electronic music – including organ music, did not show up in a roller rink until the early part of the 20th-Century.
By the turn of the 20th-Century, roller skating rinks could be found in great numbers in the upper Midwest and the north east; not so much in California.
"Rinking" was very popular as evidenced by one rink in Chicago having as many as 7,000 skaters in a single roller skating session.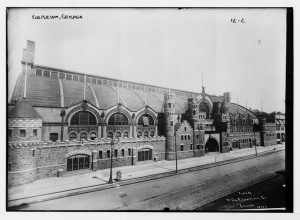 Above is the exterior of Chicago's 2nd Coliseum Arena completed about 1901, with this photo being the architects file photo.
A part of this arena would be sectioned off for roller skating.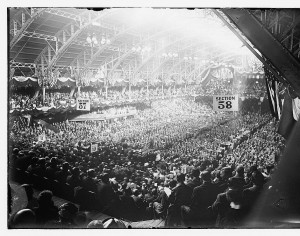 Above is a photo from the Library of Congress, shot in 1912 that shows the interior of Chicago's 2nd Coliseum of which the roller skating rink was only one part.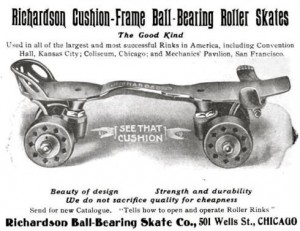 The Richardson skate – invented in 1884 by Levant Richardson, took the Plimpton invention one step forward by inventing steel ball bearings. This made the 'ride' smoother and FASTER as evidenced by the vast majority of roller speed skaters using the Richardson skate.
Levant Richardson was also a master at marketing. He not only made sure that his skates were the skate of choice in most of the major arena's and rinks but he also made sure that all speed skaters knew that Harley Davidson (no relation to the motorcycle) wore Richardson skates.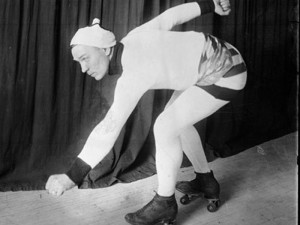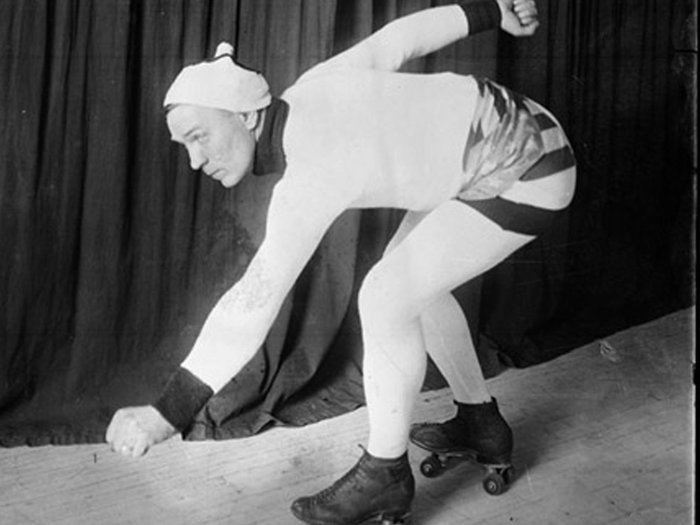 Harley Davidson was, by far, the greatest roller (and ice) speed skater of all time.
Roller Skating: The Modesto Years
Historic Modesto at http://www.historicmodesto.com/stagesandscreens.html shares what might be the first roller rink in Modesto: Merry Gardens Ballroom and Skating Rink at 6th and I. With an opening date of 1936. Historic Modesto reports it closed in 1960.
Personally, I remember going to the roller rink on Tully (which now appears to be a parking lot for the College). Modesto Music History at http://www.modestomusichistory.com/venues.html notes the Modesto Skating Rink (Skate Arena as listed in the May, 1958 issue of Skate Magazine) was indeed at 250 Tully until it burned down in the 1980's.
It is likely that there were earlier roller rinks than 1936 as roller rinks were known to pop up in opera building and converted silent movie houses. But I do not know for sure. Does anyone else?
Fast forward to now, the early part of the 21st-Century.
The distribution of roller skating and skaters has evolved from three core disciplines (roller speed, roller hockey, and artistic roller skating), all of which were found in a roller skating rink, to eleven disciplines, two of which are alive and doing well in Stanislaus County with one being out of doors. Actually, seven of the current eleven disciplines are equally found outdoors or indoors with outdoor skating increasing in popularity.
The Modesto community appears to have two roller skating disciplines (options) for skating or spectating:
Skate Boarding
Skate boarding hit the streets starting in the 1950's but due to
lacking technology it was almost dead until the early 1970's when polyurethane wheels and reasonably priced precision bearings changed everything. Just as the Cadillac automobile has always been known for its smooth ride, The Cadillac Wheels Company, founded in 1972 in Southern California by the inventor of the polyurethane wheel – Frank Nasworthy, changed skate boarding, and the lives of countless children (and adults).
Above is but one of many types and colors of wheels used on today's skateboards, and one skateboard example, also of which there are many colors and designs, thanks to their forerunner: the surf board.
Skateboarding originated as an alternative for surfers when there was no surf to attack. "Sidewalk" surfing quickly evolved to include the vast majority of individuals that either did not want to get wet or lived somewhere that had no surf.
Bur skateboarding did not – nor has, lost any of the maverick personalities that surfing was noted for. So much so that cities had no choice but to pass laws that prohibited skating (virtually all types) from a normal city street or parking lot. What has risen is the search for designated areas – as in San Francisco's Golden Gate Park or New York's central park, or trails like Dry Creek in Modesto.

There are many trails available and the following offers a good source. http://www.traillink.com/
And yet, just as a surfer is on the look for the ideal wave, the skateboarder needs a challenge to navigate and flat, no-personality surfaces like a street or a trail simply does not meet the need.
Enter the Skate Park!
It did not take long for the entrepreneurial spirit to hit the skateboarding industry.
Technically, the world's first skate park opened in 1965 in Tucson, Arizona. It was followed in the late 1970's – as new wheels adapted, by a handful of skate parks, most notably in surfing communities and by the late 1990's skate parks could be found almost anywhere.
In 1995, the City of Modesto had had enough complaints. Far too many maverick skaters of all types of skating choices. The city adopted a city ordinance against skating in virtually all public streets, parking lots and such. Keeping in mind that roller skating on private property is already against the law.
The city ordinance had the same affect in Modesto as it had in almost all cities: some skaters violating the law and the mass rallying the city for a skate park.
Within a few months from passing the ordinance prohibiting roller skating the city created a task force that resulted in the opening of the Modesto Skate Park in August of 1998.
From Kelly Gallagher – current Manager (2015) of parks operation in the City of Modesto: "While I was not on the job in '98 I am now and can share that the success of the Modesto Skate Park has exceeded expectations."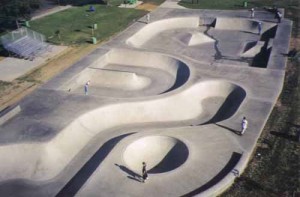 The Modesto Skate Park on Forest Glen Drive at Sylvan Avenue
Other cities in the county have followed the City of Modesto's lead and there is even talk of opening a park for BMX bicycles.
Roller Derby
Many Internet references to the founding of Roller Derby are built around the popularity of roller skating for its creation. The truth of the matter – as referenced in George Pickard's Titans and Heroes of American Roller Skating, published by the National Museum of Roller Skating, Roller Derby was the 'invention' of Leo Seltzer, one step BEFORE any direct value in roller skating. He was simply looking for a new entertainment venue.
Mr. Seltzer was in fact an entertainment promoter who had been promoting dance marathons. Due to these types of betting events evolving into seedy operations, and Seltzer being impressed with bicycle racing and hearing about how popular roller skating had become, he developed the basis for what would be known around the world as Roller Derby.
Roller Derby was an almost immediate success eventually finding a home on TV in the 1950's until it died out in the early 1970's after Leo's son Jerry had sold the business. Skating was on a downward slide until a shot of adrenaline from the Disco craze.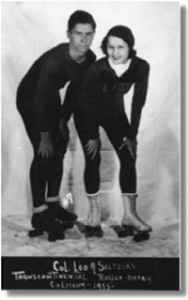 Clarice Martin and her partner Bernie McKay were the winners of the very first Roller Derby event in 1935. The event was held at the same arena – The Coliseum, where the above 7,000 skaters set a new record about 25-years earlier.
Of note for this article Clarice was the daughter of one of the top five speed skaters of the USA: Fred Martin. The Martins had changed their name from Avendano, an old Modesto family.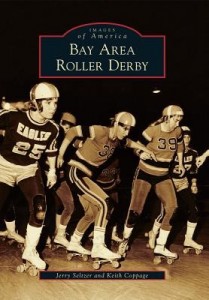 For those that remember the 1950's and 1960's when roller derby was reborn by the gift of Leo Seltzer to his son Jerry, this book published by Arcadia Publishing, is one of the best. It details how San Francisco, Oakland and other cities in Northern California were to save roller derby via TV.
Roller Derby in Turlock
Excitement, and plenty of it, does not begin to give Roller Derby its due when experiencing a game, as a skater or a spectator. And yet, for those that view live TV Roller Derby games, there can be a feeling linked to professional All-Star Wrestling; lots of excitement and entertainment but perplexed with the moment being more hoax than reality. Not that the bumps and grinds were not for real but clearly at a professional level there has to be emphasis on the spectators and their value to advertisers which brings income for the skaters. But, at the amateur level it is all about the skaters and their raw energy.
In today's amateur games spectators are amazed as to how little violence there is. Entertainment levels are realized in direct relation to the degree of being one with the skater, knowing that each skater is first and foremost a member of the team.
After watching a derby game in Stockton, in 2009, Jamie Sparks thought that the Modesto area NEEDED a girl roller derby team. She formed the Sintral Valley Derby Girls to fulfill that need.
Originally in Modesto, Sintral moved to Turlock for larger space, for both skaters and spectators.
Each game is limited to 14-skaters but unlike the pro's – who can be chosen for their personality and ability to light up the crowd, the Sintral Valley Derby Girls are chosen to skate in a game solely based on the meeting of club requirements which begin with skating skill-sets and club volunteer work.
Volunteer work is comprised of assisting with the training of new skaters, attend league meetings monthly and to participate in fundraisers. As with any non-profit there is reliance to fund-raisers and sponsorship for maintenance and growth of the organization. No difference with the Valley Girls Roller Derby. As the organization is able to reach out, more sponsors are attracted to aligning their name and brand with the teams.
Age does not seem to be a factor as the club begins skaters at 5-years old. If the skater – with their family's support, are able to commit time and have plenty of determination they should be a perfect fit. No skating experience is required.
One of the questions asked of Sintral was regarding economics. Clearly, a skater needs Roller Derby oriented skates. There are a number of retailers that appear to offer Roller Derby skates. There are even Roller Derby branded skates. Sintral has made arrangement with a local company to ensure that not only are there competitive pricing but the equipment is reliable; of good value. 
Coaching at Sintral Valley Derby Girls is also taken seriously. In talking with one of the coaches: Andrea Rush, qualification to coach starts with a Roller Derby background, basic structure and skating. They must also have patience and great communication skills.
One of the physical benefits of a skating life is found in the building of knee strength and posture. Yes, posture! This is not to think a straight back but a solid centerline understanding. There are a number of commonalities to all skating – hockey, boarding, etc., and strong knees and centerline are common cores.
Skating at Sintral Valley Derby Girls is more, much more than for the spectator. Values of being a part of a team and a part of a club are primary. Just the type of values that a community hopes for from all of their varied clubs and organizations.
After 5-years, Sintral Valley Derby Girls are meeting their plan. They originally organized in Modesto but the logistics of growth and the ability to attract more spectators for games required the noted relocation to the Stanislaus County fairgrounds in Turlock.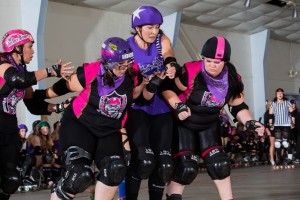 Above photo is courtesy of Russellreno Photography
The Junior Team – The Motown Misfits is co-ed while all three of the Adult Teams – The Sinners, Innocents and the Sinnocents are all females.
Jamie Sparks was certainly on target with the vision that there was a need for Roller Derby in the community. The club attracts more than enough 'want-to-be' skaters even though many will find that roller derby is far more demanding than simply going round and round at a local roller rink or cruising a trail.
Another point of need is seen in the club's recruitment process. While it is normal to see a sport's presence on a national level via TV or national campaigns, Amateur Roller Derby relies almost 100% on their local, community based efforts. Amateur Roller Derby has yet to reach a point of national sponsorships and recognition. Which only goes to add to the value of being a community oriented organization.
Amateur Roller Derby is every bit an international sport and even has two national organizations offering support services but, unlike many amateur activities, there is virtually no linkage between the play at the Amateur level and the professional level. There are no scouts following the amateurs. There is no pressure on the amateurs to compete with "going pro" as a point of motivation. Virtually no amateur can make a living from their derby skating. All amateur energy is without the idea of turning pro and the energy of the club officials is in support of the skaters personal bests: goal settings and achievements; team playing and self-worth.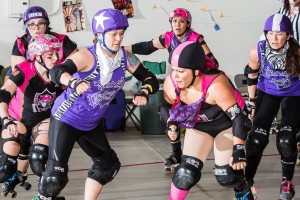 Above photo is courtesy of Russellreno Photography
——–
Bio: Robert Alsted
Robert, a Modesto resident, started roller skating in 1957 in the SF Bay Area. In retiring he saw a need to bring a greater awareness of how roller skating continues to touch our lives.
Now, semi-retired, Robert has built three roller skating oriented web sites:
Robert can be emailed at: contact@skatingnews.net
Comments
comments
Bring on the rain, and a bottle of Wonky & Wry's Honey Braggot Ale. Loves to roast marshmallows over a fire. Enjoys the mix of cigars and whiskey.