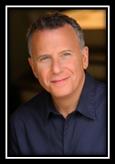 PAUL REISER SHARES HIS TALES OF LOVE, LIFE, AND
THE FUNNY THINGS ABOUT RELATIONSHIPS
AT THE GALLO CENTER FOR THE ARTS   
SATURDAY, MARCH 7th 
The Gallo Center for the Arts in Modesto, CA is proud to present the legendary Paul Reiser on Saturday, March 7th.  Comedian, Actor, and bestselling Author Paul Reiser is no stranger to the stand-up scene. His national comedy tour that highlights the funny things about life, love, and relationships continues to draw comedy fans from all over the country. In addition to touring, Reiser has garnered many notable film achievements beginning with his supporting role in the Golden Globe winning movie WHIPLASH which chronicles a promising young drummer's journey in the cutthroat music business, starring JK Simmons and Miles Teller.  WHIPLASH has been recently nominated for Best Picture at this year's Academy Awards.  Paul is currently in development with Amazon for a 1Ž2 hour series & co-wrote a new song, "No There There" with Melissa Manchester.
Due for release later this year, is the independent film 6 MIRANDA DRIVE, where Paul plays opposite Kevin Bacon and Lucy Fry. The thriller is based on a true story about a family that unwittingly brings a fear-feeding supernatural force home from vacation. Reiser's movie momentum continues as he lends his talents yet again playing alongside Will Smith and Alec Baldwin in the 2016 movie CONCUSSION, a drama based on the GQ article "Game Brain" a timely film about the dangers of playing in the NFL.
Having co-created and starred in the critically acclaimed NBC series MAD ABOUT YOU, which garnered him multiple Emmy, Golden Globe, American Comedy Award and Screen Actors Guild nominations, Reiser returned to TV last year in the critically acclaimed FX series MARRIED which has been renewed for a second season.
In 2013 Reiser played the role of Mr. Felder opposite Matt Damon and Michael Douglas in the Steven Soderbergh-directed HBO movie BEHIND THE CANDELABRA, a film that won eleven primetime Emmy's. Reiser has again paired up with Steven Soderbergh and will star in David Gordon Green's new series for Amazon, RED OAKS.   He was also seen in the highly acclaimed Sundance Film Festival award winner; LIFE AFTER BETH, a horror-comedy starring Aubrey Plaza, Anna Kendrick and John C. Reilly.
2005 saw the release of THE THING ABOUT MY FOLKS, Reiser's first original screenplay in which he starred alongside Oscar-winning actors Peter Falk and Olympia Dukakis.
In 2003 Reiser made his theatrical debut in Woody Allen's WRITER'S BLOCK.  The evening of one-act comedies marked Mr. Allen's first time out as a director for the stage.  Reiser's successes also include his book Couplehood, which sold over two million copies and reached the number one spot on The New York Times bestseller list and Babyhood, his follow-up book which features his trademark humorous take on the adventures of being a first-time father,  which also made The New York Times bestseller list. His third bestseller, Familyhood, hit the shelves in 2011.
Born and raised in New York City, Reiser attended the State University of New York at Binghamton where he majored in Music – Piano and Composition.  Reiser co-wrote The Final Frontier – the theme song from MAD ABOUT YOU with Grammy-winning producer Don Was, and in 2011 he released an album of original songs with British singer/songwriter Julia Fordham called Unusual Suspects.
Reiser is also remembered for notable performances in films such as DINER, BYE, BYE LOVE, THE MARRYING MAN, ALIENS, ONE NIGHT AT MCCOOL'S, and BEVERLY HILLS COP ("I" and "II").
Visit: http://www.paulreiser.com/
Showtime: Fri. 8:00PM / Tickets: $19 – $39
Call: 209-338-2100 / Visit:http://tickets.galloarts.org/single/SYOS.aspx?p=4203
The Gallo Center for the Arts is located at 1000 I Street Modesto, CA 95354
Comments
comments
Bring on the rain, and a bottle of Wonky & Wry's Honey Braggot Ale. Loves to roast marshmallows over a fire. Enjoys the mix of cigars and whiskey.