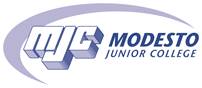 (Modesto, CA) – The Modesto Junior College Department of Music presents the Phonosynthesis Electronic Music Concert on Wednesday, April 1 at 7:30 p.m. in the MJC Recital Hall on East Campus. The concert is open to the public and admission is free.  Campus parking passes are $2 and can be obtained at ticket dispensers located in the student parking lots.
The Phonosynthesis concert features original electronic music compositions created by student composers from the MJC electronic music classes and the MJC Electronic Music Club.  The composers include Brandon Blair, Justin Erwin, Hector Guizar, Israel Hernandez, James Laidler, Kyle List, Ashley Lunt, Aaron Maddocks, Daniel Medina, Leo Medina, Miguel Rodriguez, Alex Rojero, Ricardo Torres and Juan Vasquez.
The music is created using synthesizers, computer-controlled synthesizers, samplers and digital effects.  Some of the compositions are performed live while others are pre-recorded performances.  Special lighting effects, video displays and slides accompany the compositions.
The program includes a performance by MJC Electronic Music Studio director David Dow of his original electronic music composition entitled "Labyrinth."  Dow will also perform this piece at the 2015 Society for Electro-Acoustic Music in the United States National Conference held March 26-28 at Virginia Tech in Blacksburg, Virginia.
For more information contact Professor Dow at dowd@mjc.edu or (209) 575-6078.
Comments
comments
Bring on the rain, and a bottle of Wonky & Wry's Honey Braggot Ale. Loves to roast marshmallows over a fire. Enjoys the mix of cigars and whiskey.