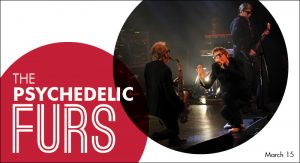 If you were to dissect today's alternative rock music, you'll find that much of it pays homage to The Psychedelic Furs, who is coming to the Gallo Center for the first time in March! Led by vocalist and songwriter Richard Butler, and his bass-wielding brother Tim, the Furs scored major hits with "Love My Way," "Pretty In Pink," "Heaven," "The Ghost In You," and "Heartbreak Beat." Born out of the post-punk UK rock scene, the Furs took off into the stratosphere in the early 80s with the advent of MTV, and when John Hughes' approached the band with his film built around the Furs' song "Pretty In Pink", the band's legacy was cemented. After a brief hiatus in the 90's, the band has regrouped and resumed touring with a lineup that remains Richard Butler (vocals), Tim Butler (bass), Rich Good (guitar), Mars Williams (saxophone), Amanda Kramer (keyboards), and Paul Garisto (drums).
PERFORMANCE:
THURSDAY, MARCH 15, 7:30 PM
TICKETS:
$29/39/49/59
ON SALE DATES:
Jan 16: Gallo Center Founders, Seat Namers & Center Circle Members*
Jan 17 – 18: Gallo Center Friends, Friends+ & Amigos of the Center*
Jan 19: General Public: 10 am phone/walk up & 11 am online
*Call (209) 338-2100 or visit the Ticket Office at 1000 I Street in downtown Modesto.
Comments
comments
Middagh Goodwin LIVES Music. He has been booking and promoting Music, Art and Comedy for years in the Central Valley. He ran the award winning Plea for Peace Center in Stockton for 5 Years and has booked bands from A-Z. Middagh is beginning 2016 with a new position at the Gallo Center for the Arts and celebrating Beat Happy! Music's 30th Anniversary. Read the MAMAView every month and a the Needle Drop 52 Records 52 Weeks.