RockabillyView: Rockabilly Riot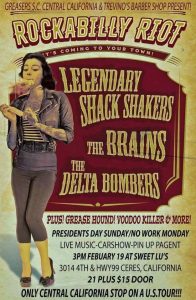 Greasers SC Central California & Tony Trevino's Barber Shop Present: Rockabilly Riot at Sweet Lu's on Feb 19th, located at 3014 4th Street Ceres.
Headlining is the Legendary Shack Shakers. I remember my first Legendary Shack Shaker show, opening for Reverend Horton Heat in San Francisco. Standing up-front waiting with anticipation for this raunchy powerhouse of a group. Two songs in my sister and I had to remove ourselves from the front row. Robert Plant said, "I don't know how much more expressive you can get the crowd being a rock 'n roll singer!". This holds very true to the Legendary Shack Shakers; Col J.D. Wilkes is astounding on stage! Can't wait to get up close for another wild performance.
The Brains, another extraordinary Psychobilly band from Montreal founded in 2002, is a powerhouse to be reckoned with. A band that likes to break all the rules. Influenced by Nekrommatix, Happy Drivers, and Motorhead. You can expect one heck of a riot. You will not be disappointed in their performance.
Delta Bombers was established in 2008 by four teenagers, Chris, Andrew, Gregrio & Kirk. These four young men from Las Vegas have made a name for themselves, playing reputable Rockabillyand Psychobilly Festivals around the world. I am sure they never expected to become so viral as they are today.
The Voodoo Killers are a mix of many local talents. The Meeker duo, dad and son Richard Meeker and Stephen Meeker, playing what they love: the blues. (With a raunchy harmonica tones!) Then there's Tony Trevino, a local barber shop owner and lead man of many projects from his punk days to his Rockabilly and blues days. Joining them is Tractor Boy Chris Ward on drums. Last but not least, Pablo Cruise on guitar wailing those tasteful rhythms.
Greasehound's Richard Romero and his two partners in crime are no strangers to the local music scene. Playing everything from metal shows to Rockin' Holiday on 10th Street. Richard and his trio are not afraid to take it all on. After all, rock`n`roll is fun to play.
So come check out the music, the cars and pin-up contest!
Show starts at 3pm 21+event and $15.00 at the door.
Let ROCK~N~ROLL RULE!!!!
Comments
comments