SongwriterView: (Purple) Rain or Shine
By Patty Castillo Davis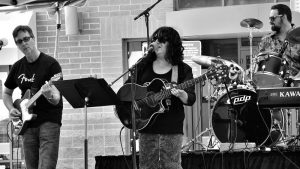 Located in the Central Valley, we have the best of everything-outlets of culture, foothills and beaches and the friendly weather. After a tumultuous winter we are so ready for a warm reawakening. Feeding our minds, bodies and souls, the Modesto Certified Farmer's Market will be in full spring featuring the best of the bounty of the county including some great music by some terrific songwriters and acoustic artists- yours truly will be performing on April 15 at 9am. The Third Thursday Art Walk features music in selected venues and on April 20 Dale Huff will be playing the ModestoView mini stage at the corner of 11th and J Street from 6 to 9 pm. The very popular Friday Night Unplugged concert series at the Queen Bean is moving forward with new faces and some local veterans giving you an option with a true family atmosphere. If you are interested in playing this weekly event please send inquiries to ty41rhcp@yahoo.com.
When the news of Prince's passing a year ago was felt around the world, a great sorrow affected most everyone at the loss of such an influential songwriter and frankly-a world less funky. Inspiring a generation of artists and creating a standard by which few could follow, today our shock and adulation still exists. You will remember forever where you were when you heard your first Prince song and where you were when you heard the devastating news of his death. In tribute and celebration of his life and legacy which earned him his Icon status, on April 29, the State Theater will host it's second annual Purple Rain Tribute Party. An hour of live hits from the Prince catalogue will be performed courtesy of Tim Allen, Patty Castillo Davis, Gil CJ Conrad, Matt Harrington and Marlon Yamzon. A phenomenal light show by Voodoo Laser will precede the feature film Purple Rain. Get your tickets early as last year this glittery, sparkly, costumed, sing along, dancing in the aisles party was a standing room only event.
Breakfast at Deva on Sundays will host Dan Vallerand 4/2, Tim and Patty 4/9, Nathan Ignacio 4/23 and Sincerely, Allison 4/30  from 10 am to noon.
The Shire Community Space and Jake Yates are presenting "Bar Fight' on April 15 at 6:30 pm, bringing together poetry and singer songwriters. Hosted by Brodrick Parker-Me & You, Jordan Waters, Sincerely, Allison and MAMA Best Singer Songwriter Dan Vallerand will perform acoustic originals and cover tunes. This event is free.
I implore you-if you are a songwriter and have shows/events you would like to promote here please send me your information at pcdenterprises@yahoo.com or if you are interested in opportunities to play. You may shine bright like a diamond but no one will see you if they don't know where to look. Support your local musicians-pay money to see a show, attend a concert headlined by a woman artist, buy the marching band cookie dough fundraiser, have music for Sunday breakfast. Spring is the time of plans and projects.
Comments
comments