StageView: Center Stage Conservatory Brings a Haunting New Season
By Summer Krafft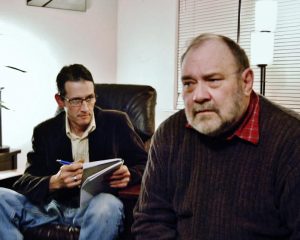 Photo Credit Jeffrey Truong
Center Stage Conservatory will premiere the first play of their 2017 season, Shining City, opening February 10th at the Lower Level Studio at 948 11th Street. It is a different kind of ghost story, following a man through counseling after the loss of his wife, which turns out to be not as simple a story as it once seemed. The play will run weekends through February 26th.
The season will feature a total of six plays, all on the subject of what haunts us. On that subject, Artistic Director Traci Sprague said, "This past year it has become evident how haunted people are by things from their past. Something that I will call beautiful, even if at face value we would not define it as such. But beautiful they are because they are a part of this rich complex and messy world that makes us who we are. When we explore these hauntings, we can shine a light to see love in the darkest of moments and help us see what we need to hold onto in this often harsh and cruel world. Theatre is known for its power to shine a light; to bring the necessary awareness, to help us heal and provide this inspiration to make changes in our world and thoughts both small and large. These are tremulous times and it seemed most important to explore what haunts us with the 2017 season."
Next up, in April, will be the theater's second annual Devised Theatre Project, a piece of the new theater built from the ground up at Center Stage by local writers, performers, and Sprague herself. Later in the season, the theater will be producing heartwarming The Miss Firecracker Contest, the comedy Dog Sees God, the family drama The Effect of Gamma Rays on the Man-In-the-Moon Marigolds, wrapping up in December with the classic holiday ghost story Jacob Marley's Christmas Carol. The season will also offer a variety of special events including music, a dance showcase, and drop-in yoga sessions. In addition, Center Stage is offering season subscriptions which include tickets to every show of the season at a discount, as well as discounts on special events. To subscribe or find more details on the season's offerings, visit centerstagemodesto.com or like the Facebook page Center Stage Conservatory's Lower Level Studio.
Comments
comments