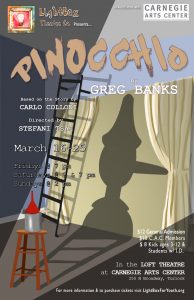 LightBox Theatre Announces Dates for 'Pinocchio' Spring production sets for Carnegie Arts Center Stage in March
 TURLOCK — The LightBox Theatre Company, a theatre for young audiences, continues its 2017-18 season this spring with the production of 'Pinocchio' this March.
Based on the classic tale of The Adventures of Pinocchio, 'Pinocchio' is a new, fast-paced, story-within-a-story featuring painters. The play promises to be loaded with laughter and fun as it entertains audiences of all ages, especially the youth.
'Pinocchio,' written by Greg Banks, touches on topics of importance of honesty, friendship and family.
LightBox Theatre Company co-founders Stefani Tsai and Eric Broadwater are directing and designing the production, respectively. This production features local actors from the community and recent Stanislaus State graduates.
'Pinocchio' will run from March 16 through March 25 at The Loft at Carnegie Arts Center in Downtown Turlock. Show times are 7 p.m. on Fridays and Saturdays and2 p.m. on Saturdays and Sundays.
This production is the spring show of the 2017-18 season for LightBox Theatre Company. The troupe staged 'Aladdin's Luck' this past October. Past titles from LightBox included 'Bunnicula,' 'The Reluctant Dragon,' 'The Super Cilantro Girl,' and 'The True Story of the 3 Little Pigs!'
For a complete schedule, ticketing and more information about the non-profit theatre organization, please visit LightBoxForYouth.org.
LightBox Theatre Company (LTC) is a non-profit theater organization committed to bringing quality, professional live drama to the youth in and around Turlock. Through public and school-based performances, LTC seeks to provide opportunities for local communities' youth to be entertained, enlightened and inspired. LTC strive to be one of the first steps in instilling a life-long love of the arts for the young members of our community.
About the Carnegie Arts Center – Turlock
The historic Carnegie Library opened in 1916 and is now one of only a handful of art centers in the region. The Carnegie's programs include exhibitions, education classes and programs, lectures, and activities in artistic genres as diverse as dance, music, theater and more. At least 25% of all programming is dedicated to children and teens. The Carnegie Arts Center Foundation is a 501 (c)(3) non-profit organization and all donations are tax-deductible to the extent allowed by law.
Website: carnegieartsturlock.org, Facebook: Carnegie Arts Center of Turlock, Instagram: @carnegiearts, Twitter: @carnegieturlock
Public Performances:
Friday, March 16 & 23 at 7 p.m.
Saturday, March 17 & 24 at 2 p.m. and 7 p.m.
Sunday, March 18 & 25 at 2 p.m.
Ticket Prices:
$12   General Admission
$10   C.A.C. Members
$8     Youth/Students with valid ID
Website: LightBoxForYouth.org
Comments
comments
ModestoView features contributors from our community on a regular basis. We enjoy and welcome these honorary ViewCrew members. If you would like to message them, email to info@modestoview.com