Steam House Coffee Brews Special Blend of Family-Friendly Entertainment in Modesto this October with Classic Comic Con 2016
Press Release
Proprietors of Steam House Coffee Co. are bringing a second year of convention fun to the Stanislaus County area. Previously dubbed "Steam House Con," multi-genre, pop culture convention Classic Comic Con features two days of entertainment for all ages Saturday, October 1st – Sunday, October 2nd at the McHenry Event Center in Modesto, former home of Seasons.
Classic Comic Con's weekend offerings include screenings of up and coming indie movies, short films and trailers; a number of expert panels, a costume contest with prizes, table top games, video games, kids activities, Otaku cars on display and several vendor booths selling a variety of art, comics, collectibles, toys, clothing, accessories and handmade artisan crafts.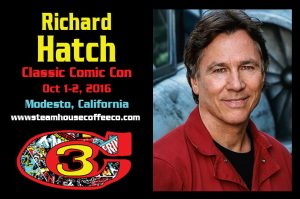 Actor/Director Richard Hatch (Battlestar Galactica, Cowboys & Engines, Star Trek: Axanar) will teach an exclusive acting and film making workshop where he covers a variety of acting methods and techniques. Richard teaches actors, writers and filmmakers how to be more proactive in the business, enabling them to create their own unique pathway to success in today's entertainment industry. Attendees will gain insight on how to get the most out of their talent and abilities, and how to make a powerful impression on agents, casting directors, producers and directors.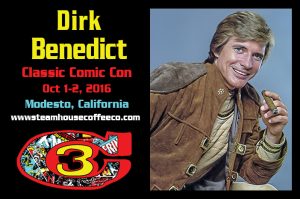 The convention's celebrity guest line-up includes fan favorites Dirk Benedict and Richard Hatch who played the original Starbuck and Apollo in the iconic series Battlestar Galactica. Joining them is Star Trek franchise veteran Tracee Lee Cocco, who has played a variety of characters in multiple Star Trek series and is best known for her role as Ensign Jae in Star Trek: The Next Generation. Cocco has also appeared in the three Next Generation feature films. The guest line up also features anime and gaming world favorites actor Paul St. Peter and the original Mighty Morphin Alien Rangers, Rajia Baroudi and Alan Palmer. Rounding off the Classic Comic Con celebrity guest list are Ryan T. Husk, producer of the web series Star Trek: Renegades and the upcoming Blade of Honor; actor Rico E. Anderson, notably known for the day time series Days of Our Lives and The Bold and the Beautiful as well as prime time series Murder in the First and Grey's Anatomy; and author/comic creator Philip G. Cable. Returning as this year's Master of Ceremonies is Doc Phineas who enriches young minds as a college professor and shares his passion and expertise for antiquities on the History Channel's Pawn Stars. A number of professional cosplayers and fangroups will also be appearing through the weekend.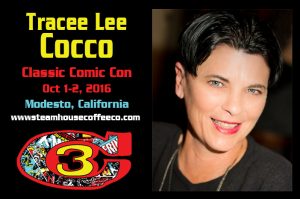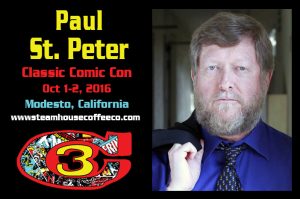 Classic Comic Con admission is affordable at $15 for a day or $25 for the whole weekend. Tickets may be purchased on the event website at www.steamhousecoffeeco.com. Keep up with #CCC2016 buzz on Facebook and Twitter.
Media professionals who wish to interview event guests and/or cover the convention may send their request to Mina Frannea: pr_media@steamhousecoffeeco.com.
Classic Comic Con 2016
Website: www.steamhousecoffeeco.com
Facebook: @steamhousecon
Twitter: @CoffeeSteamPunk
Media Contact: Mina Frannea at pr_media@steamhousecoffeeco.com
Comments
comments
Bring on the rain, and a bottle of Wonky & Wry's Honey Braggot Ale. Loves to roast marshmallows over a fire. Enjoys the mix of cigars and whiskey.