The Central California Art Association at the Mistlin  Gallery presents "Young @ Art" March 3 – March 21 .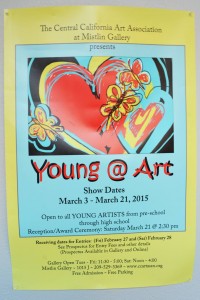 CCAA welcomes all young artists to participate in our annual show Young @ Art (formerly known as Young Masters).  It is open to artists from 0 – 18 (still in high school). Receiving is Feb 27 and 28.  Show opens on March 3, will be featured at the March 19 Art Walk to coincide with Youth Art Month.
Reception and awards ceremony is March 21 @ 2:30 in the gallery.
Admission to the Gallery, which is located at 1015 J Street in downtown Modesto, is free. Don't forget to visit our Gift Shop where hand crafted jewelry, ceramics, and small format paintings are available.
The exhibit's public reception is on the Third Thursday Art Walk, March 19, from 5:00 to 9:00 p.m. Music by Mitchel Dill and Refreshments will be available During the Art Walk. Mistlin Gallery hours are Tuesday through Friday 11:30 a.m. to 5:00 p.m., and Saturday noon to 4:00 p.m. The Mistlin Gallery is located at 1015 J Street, Downtown Modesto, 209-529-3369
Comments
comments
Bring on the rain, and a bottle of Wonky & Wry's Honey Braggot Ale. Loves to roast marshmallows over a fire. Enjoys the mix of cigars and whiskey.