The Stanislaus County Library, official Vintage Faire Mall Kids Club partner, read "Twas The Night Before Christmas" at Santa HQ Dec 15th.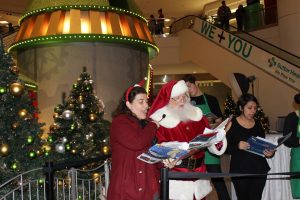 Please Support your local library and literacy programs.
Modesto Library Children's Department, with 50+ Library Volunteers were present
Santa HQ staff, including Santa himself read "Twas The Night Before Christmas" to local kids.
Library volunteers promoted "Books for Giving", a list of readings that would be great holiday gift ideas for readers of any age.
Comments
comments
Bring on the rain, and a bottle of Wonky & Wry's Honey Braggot Ale. Loves to roast marshmallows over a fire. Enjoys the mix of cigars and whiskey.