The Turlock Certified Farmers Market and Love Turlock will begin this Saturday, May 7th at the Fairgrounds.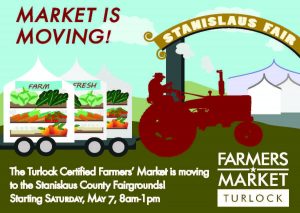 The Turlock Certified Farmers Market (TCFM) will now be held every Saturday, 8:00 am – 1:00 pm, starting this Saturday May 7, 2016 through October 29, 2016 (blackout dates including the two Saturday's of Fair, July 9th and 16th) in the Ag Pavilion located near the Hilmar Cheese entrance gate or the West Gate off of Soderquist Rd.  Guests will be able to enjoy fresh produce, local ingredients, and hand-made items.  Parking will be made available on Soderquist Rd., as well as inside the Fairgrounds.
"We have always worked towards having a farmers market here at the Fairgrounds and look forward to this partnership with Turlock Certified Farmers Market," said Adrenna Alkhas, spokesperson for the Stanislaus County Fair.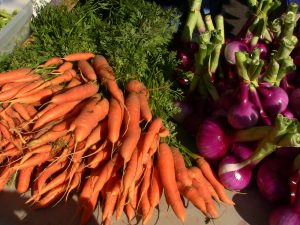 Love Turlock is a one-day event designed to meet needs and impact lives by tackling projects that will make a significant change in the community. Volunteers are able to show love in a variety of ways; visiting with seniors, collecting and distributing food for the hungry, outdoor maintenance. All volunteers are encouraged to meet at the Stanislaus County Fairgrounds (free stage area) for the event kick-off & free BBQ.
Itinerary for Saturday, May 7, 2016:
7:30 am – kick-off [Stanislaus County Fairgrounds (free stage area)]
Approximately 8:00 am – 11:30 am – serve people by completing projects you volunteered for.
12:00 pm – 2:00 pm – free BBQ for volunteers and recipients (fairgrounds)
Additional information about Love Turlock and ways to volunteer are available on the Love Turlock website at www.loveturlock.com.
Additional information about the TCFM, including list of vendors, sponsors, and contact information are available on the Turlock Certified Farmer's Market's website at www.turlockmarket.org.
To receive future Fair announcements follow us on Facebook at facebook.com/stancofair. Also, follow us on Twitter and Instagram @stancofair.
The mission of the Stanislaus County Fair is to provide a family and community oriented experience promoting agriculture, entertainment and technology.  For more information about the award-winning Stanislaus County Fair, visit www.stancofair.com.
Comments
comments
Bring on the rain, and a bottle of Wonky & Wry's Honey Braggot Ale. Loves to roast marshmallows over a fire. Enjoys the mix of cigars and whiskey.