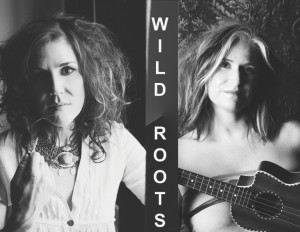 The Wild Roots Tour, is a collaborative show featuring two fiercely independent Singer Songwriters, Josephine Johnson, and Pi Jacobs. The two met at a gig, and instantaneously recognized kindred spirits within one another: A love of Roots Music, powerful singing, and Instrumental prowess, drew them to each other. A Wild Roots show, features both artists playing their original songs, and backing each other up with soaring harmonies, banjo, ukelele, acoustic guitars, and a percussion box that Pi built, lovingly called "the box". The Wild Roots Tour is categorically not your typical folk show, despite the acoustic instrumentation, these two insist on rocking out, and having fun, as do their audiences.
About Pi: Pi Jacobs is the singer you've probably heard, even if you haven't heard of her! With over 60 Song placements in television and film, Pi's music has been heard on MTV, Oxygen, ABC Family, Lufthansa Airlines In-flight Entertainment, Macy's Commercials, and several independent films.
The Los Angeles based singer-songwriter has just released her 6th Studio Album, Hi-Rise Ranch, to rave reviews, with LARecord describing it as "funky, tight and driving roots rock", and AXS.Com calling it "a masterpiece".
An accomplished rock guitarist and multi-instrumentalist, Jacobs has taken her current solo tour a step further, adding a home-made percussion stomp box to her set. In addition to
her "smoldering" vocals (ParcBench.com) and intricate guitar playing, the percussion box drives her "one-woman band" show to the next level. Fans of Shakey Graves and KT Tunstall alike will find much to love about Ms. Jacobs solo work.
About Josephine: Josephine Johnson is a California singer songwriter – by way of Indiana, Georgia and China. Raised in a one stoplight Indiana farm town, with a voice big enough to cross oceans, Josephine always knew music and performance were her primary passions. With a gift for melody and lyric, her songs are reminiscent of the golden age of songwriters (think Carly Simon, Stevie Nicks) graced with a modern rock edge (like Florence and the Machine). Her delivery is sincere and dedicated to the craft of writing and heart-felt performance. In 2011, Josephine was voted Humboldt's best solo acoustic performer, and since then she has shared her music throughout California, China, and Thailand. Currently, she lives in Los Angeles and is at work on her third studio album, a collaboration between her NorCal and LA production teams.
Upcoming shows:
Grizzly Rock Cafe – Saturday, August 29, 9PM 4905 N Golden State Blvd, Turlock, CA 95382 (209) 250-0086
No Cover Charge
Devas Cafe – Sunday, August 30, 9- 12 AM Brunch Show 1202 J St, Modesto, CA 95354 (209) 572-3382
No Cover Charge
Comments
comments
Bring on the rain, and a bottle of Wonky & Wry's Honey Braggot Ale. Loves to roast marshmallows over a fire. Enjoys the mix of cigars and whiskey.