VALLEYPBS KIDS NITE EVENT TO TAKE PLACE AT FRESNO CHAFFEE ZOO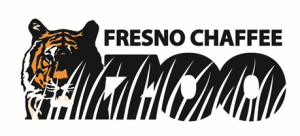 Fresno, CA – ValleyPBS and Fresno Chaffee Zoo are excited to announce the new event – ValleyPBS Kids Nite! Formerly known as Dino Nite, this new and exciting event will take place on Saturday, September 5 from 5 p.m. to 9 p.m.
Buddy from Dinosaur Train, Arthur from Arthur's World, Alpha Pig from Super Why!, Curious George and Daniel Tiger will all be on hand for meet and greet photo opportunities at the family friendly event. In addition, families can also enjoy make and take crafts, animal bio facts, vendor booths and kid-friendly entertainment.
Guests at this annual event will also get to uncover bones in Dino Dig, see Ross Laird's Winged Wonders Bird Show, stroll through the Zoo after hours and enjoy a special screening of a PBS Kids show.
Tickets can be purchased online at www.fresnochaffeezoo.org or www.valleypbs.org or by calling Fresno Chaffee Zoo at 559-498-5921.
Admission prices are as follows:
Children 1 and under are free.
ValleyPBS or Fresno Chaffee Zoo Members: $12 Adult (age 12 years and up), $9 Child (ages 2 -11yrs)
Non-Members: $15 Adults (12 years and up), $12 Child (ages 2 – 11yrs)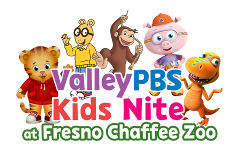 Fresno Chaffee Zoo is open daily at 9 a.m. Closing times vary from 4:00 p.m. to 6:00 p.m. depending on the season (subject to change without prior notice). Thanksgiving (9 a.m. – 2 p.m.) and Christmas Day (closed). Visit www.fresnochaffeezoo.org for current hours. General admission during regular Zoo hours is $7 for adults and $3.50 for children 2-11 & seniors 62+. Children under 2 and Fresno Chaffee Zoo members are free. Fresno Chaffee Zoo inspires wonder of our natural world, provides an engaging learning environment, and creates a passion for conservation. The Zoo is accredited by the Association of Zoos and Aquariums (AZA).
Comments
comments
Bring on the rain, and a bottle of Wonky & Wry's Honey Braggot Ale. Loves to roast marshmallows over a fire. Enjoys the mix of cigars and whiskey.