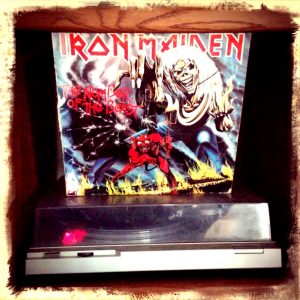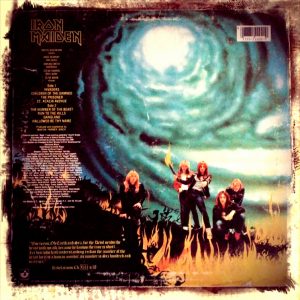 Weekend Needle Drop-52 Weeks 52 Albums
Iron Maiden-Number of the Beast
There are very few Metal bands that do it for me. Iron Maiden is one of the few not only musically but lyrically. Steve Harris's galloping bass line inspired so many other musicians crossing genre lines. With lyrical content inspired by movies, history and literature. Iron Maiden is the thinking mans Metal band. Add to it Derek Riggs's artwork they were the complete package.
Number of the Beast was Maiden's third album and first with vocalist Bruce Dickerson. It is also the bands first to reach #1 in the UK Record Charts and certified Platinum in the US. The album had two singles released from it the self titled song and "Run to the Hills" which was a top 10 hit.
I remember the controversy over the bands imagery and lyrics. Conservative and Christian groups(who most likely never read the lyrics) would break or burn Iron Maiden's merchandise. It was a popular misconception that they were satanist.
Even with the controversy it has gained incredible critical acclaim being included in just about every "Greatest" list. Top 5 most essential Metal Albums, One of the Top 50 Heaviest Albums of all time, One of the Best British albums of All Time. It is clear to see why the band has done so well and crossed over to fans of all ages.
At one time they were the highest grossing touring band, not because of ticket sales but because of merchandise. You could not go anywhere in the mid 80's without seeing Iron Maiden's mascot Eddie, back patches, mirrors, posters; especially a big hit at County Fairs.
In 2003 I was lucky enough to catch Bruce Dickerson's return to the band in Cincinnati and in Marysville on tour with Dio and Motorhead.
Comments
comments
Middagh Goodwin LIVES Music. He has been booking and promoting Music, Art and Comedy for years in the Central Valley. He ran the award winning Plea for Peace Center in Stockton for 5 Years and has booked bands from A-Z. Middagh is beginning 2016 with a new position at the Gallo Center for the Arts and celebrating Beat Happy! Music's 30th Anniversary. Read the MAMAView every month and a the Needle Drop 52 Records 52 Weeks.