Wine Festival Coming to the Stanislaus County Fairgrounds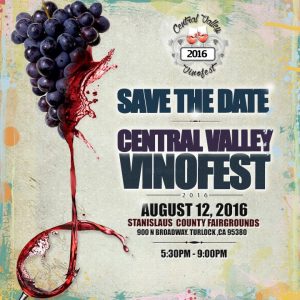 Turlock– The Central Valley Vinofest is coming to the Stanislaus County Fairgrounds. The summer festival centers on a wine lineup of some of the valley's heaviest hitters. Guests will enjoy unlimited sampling, a souvenir tasting glass, admission to a charity art gallery, free parking, and great music.
"Our community is rich with talent and I wanted to create a venue to recognized it." said Veronica Camp, founder of the Central Valley Vinofest. "The purpose of this event is to celebrate the local pioneers who dedicate their lives to creating a great product for the valley to enjoy."
This year's participating wineries include Klinker Brick Winery, Silkwood Wines, Irish Family Vineyards, Van Ruiten Family Vineyards, Renner Winery, Tsymbal Winery, Classic Wines of California, Stewart and Jasper Orchards, San Joaquin Wine Company, Maggie Margarita Wine Company, Locke Vineyards, Weibel Family Vineyards, and Cru Wine Company.
In addition to the delectable wine, all attendees will receive a complimentary baguette of fresh bread from Bella Luna Bistro in Merced. Guests can snack on this Italian treat as they sample gourmet cheeses from Hilmar Cheese Company and Fiscalini Cheese. Wine, cheese, and bread a match made in taste bud heaven!
"In 2015 the Central Valley Vinofest sold out in 2 1⁄2 weeks. We intend to continue to grow the event to answer the requests of our dedicated attendees" says Camp.
Food can be purchased from the Italian food truck Bella Luna and new addition Food Fix Truck. In an effort to provide samples for our designated drivers, Noah's Water is joining the fun. The sampling team will be offering Sparkling Water options and the premium Noah's Bella.
The Central Valley Vinofest will be held on Friday, August 12th from 5:30 p.m. to 9:00 p.m. at Stanislaus County Fairgrounds, 900 N. Broadway, Turlock, CA. Tickets in advance are $35 and if still available $40 at the door. They can be purchased online at cvvinofest.com or onsite the day of the event. To encourage safe driving, there is a discounted ticket for designated drivers at $15 per person. All guests must be 21 years old to attend. Local charity, Art Expressions of San Joaquin will feature innovative, creative, and fresh art pieces for purchase.
For more information on the Central Valley Vinofest or to purchase your tickets, visit cvvinofest.com
Comments
comments
Bring on the rain, and a bottle of Wonky & Wry's Honey Braggot Ale. Loves to roast marshmallows over a fire. Enjoys the mix of cigars and whiskey.