CrabView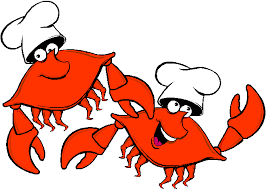 It's a brand new year and it is a brand new crab season.  Boy oh boy is this one of the tastiest time of the year and the ViewCrew are suckers for a great crab feed.  Best of all, you get this delicious treat at the same time, you can help some of our hardest working non-profits that really need your support.  So why not, help one of these great organizations and enjoy one of the best tastes ever.   You will probably see us there with our own special butter blend.  AND, even if you can't make it to the event, some of these will prepare Crab dinners to go and you can enjoy at home and best of all, make crab omelets for your next breakfast.  
01/23 Dine-In Crab & Cioppino Dinner at California Ballroom
02/04 14th Annual Crab Feed Drive Thru at St Stanislaus 
02/04 Crab Fest at Howard Training Center
02/04 Parkview PPF Crab Feed at Ripon Community Center
02/05 Crab Fest at Howard Training Center
02/05 PER & Officers Crab Feed  at Modesto Elk's Lodge
02/12 St Jude's Crab Feed at San Joaquin County Fairgrounds
02/12 Crab Feed at Grace Lutheran Church
02/12 VFW Crab Feed at Stanislaus County Veterans Center
02/12 Mary Lyon's Crab Feed Old Fisherman's Club
02/12 Crabfest 22 at St Joseph's Church
02/12 5th Annual Crab Feed at Ripon Community Center
02/12 5th Annual Crab Feed at Riverbank Community Center
02/25 Crab Feed at Modesto Elk's Lodge
03/05 Crab Feed at Modesto's Graffiti Museum
03/05 500 Lions Club Crab Feed at St Joseph Church
03/05 Lucas Elementary Scholarship Crab Feed at American Legion Hall Ceres
03/12 MHS Sports Boosters Crab Feed at Paradise Elementary School
03/12 MARCH 12 Beyer Athletic Boosters Crab Feed at St. Paul's Hall
03/19 City Ministry Crab Feed at Tuolumne River Lodge
04/02 Gregori Crab Feed at Ripon Community Center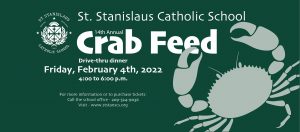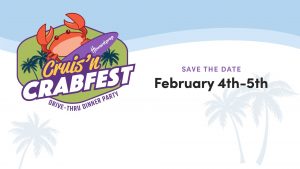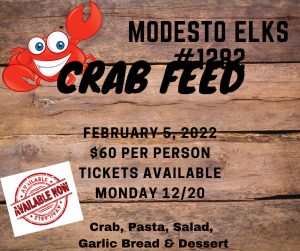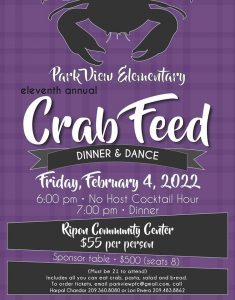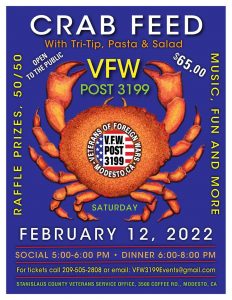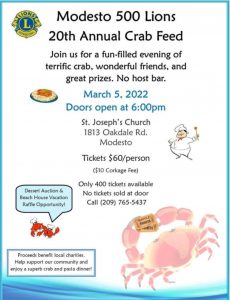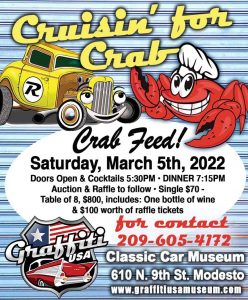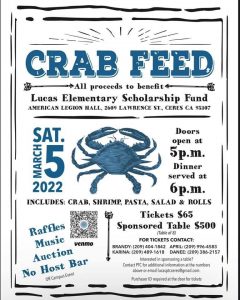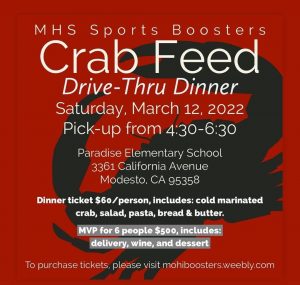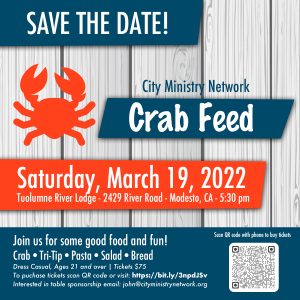 Middagh Goodwin LIVES Music. He has been booking and promoting Music, Art, and Comedy in the Central Valley for years. He ran the award-winning Plea for Peace Center in Stockton for 5 Years and has booked bands from A-Z. In addition, he is the managing editor of ModestoView and writes the MAMAView and GeekView. Middagh works with the Modesto Area Music Association and books Music in the Plaza. In addition, he owns and operates Graffiti-Con, where cars and pop culture intersects. More recently, Middagh has been working with the Graffiti USA Classic Car Museum, helping to create unique events that help raise funds and awareness of the museum and its mission. On top of that, you can tune into one of two shows that Middagh Goodwin hosts on KCBP 95.5 FM; This is SKA and MAMA Radio.