Art View
By Jim Christiansen
Last month, we entered the Holiday season in the Red Zone. As I write the column, we are back to the purple, but there seems to be some changes that aren't quite a full step backwards. There are some December art events still on the schedule. Galleries still on restricted hours, but not fully closed. Rescheduled events still in planning for the new year. Artists have been at work in home studios, adding to portfolios, art for viewing or sale. Art is alive in Modesto.

Mistlin Gallery is open Thursdays and Fridays 11:30 to 5 pm, and Saturday noon to 4 pm. That schedule will continue. The current show is "Meet the Artist," with several artists on display with a larger selection of completed works to view and purchase. Paintings, mosaics, ceramics, multimedia, 2d and 3d art up through the holidays. I've seen it. Quite the showcase of Mistlin members. The Mistlin gift shop area is repopulated with new selections this month, including a few of my coffee cat watercolors.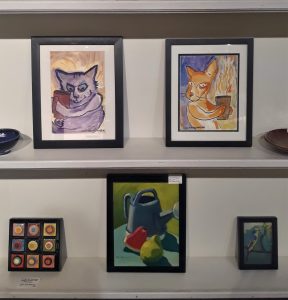 From Sandy Veneman's profile in the online production of "Expose yourself to Art," I learned the Chartreuse Muse is open Saturdays. Local art is popping up at downtown venues with limited inside dining. MOCON on Tenth and E, still open to non-members Saturdays to check out their visual art and music and theater arts offerings. To stay current, see the downtown restaurant and gallery Facebook pages. Dragonfly Art for Life is in the process of decorating the walls for the holidays, and classes still available. Dragonfly will host a series of holiday crafts fairs starting December 5th.
In January, Mistlin will host an "Art of Covid" exhibition in the same format as "Meet the Artists" I will have some work in that one done over the summer, so this will be recent works.

One of the rescheduled events is Stanislaus Artist Open Studio, cancelled twice in 2020. New dates to visit artists studios will be April 24 and 25th, with the same artists, and most of the same locations as the published 2020 map. Only three artists have dropped out to date, and for a limited time, artists who would like to add themselves in can do so. Email your interest to Stanislaus.openstudio@gmail.com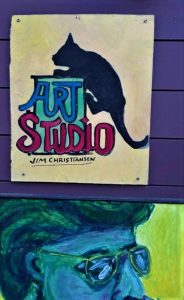 I expect to be part of Open Studio, with a new studio cat. One of my paintings is among the 2020 purchase prize selections to be given away by raffle. Committee has yet to determine how we update the maps, and online map for the event, but that will be covered in next month's Art View.
StArt the Stanislaus Art Magazine brainchild or Linda Knoll, completed its fundraising campaign, and issue one is available. The magazine is geared to kids and adults in Stanislaus County, and is available by subscription. For information on where to get the first issue, or become a subscriber, or add content for submission, contact Linda at llknoll@gmail.com or send in to StArt Magazine, 1422 Fordham Avenue, Modesto, CA 95350. First issue looks very good and worth the time to review a copy.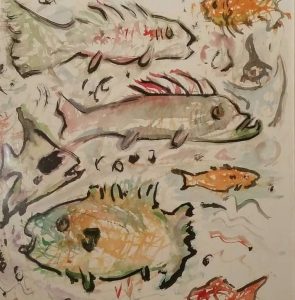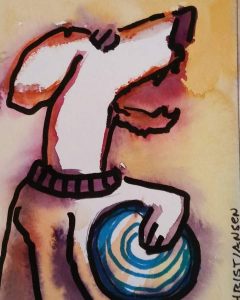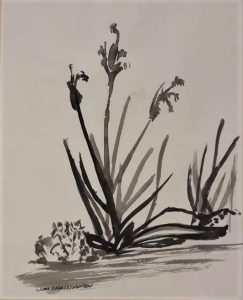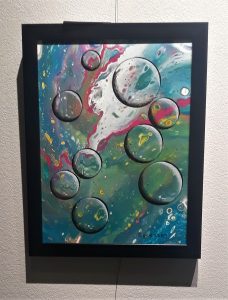 Jim Christiansen, award winning watercolor artist, cartoonist and member of many art groups moved to Modesto in 1977. Born in Riverside, California, and attended University of California, Riverside. Jim often shows around Modesto, does a poster or two, and has been host of the art walk events at State Theatre and Jax on H. Jim has been writing the art notes column several years for Modesto View.