By Earl Matthews
Hello Blues fans, here are some fun things to do in the month of September. On the first up in Mokelumne Hill, you can hang out with Jeramy Norris and the Dangerous Mood at the Hotel Ledger for their Blues BBQ Party. Poorhouse Millionaires will be back at Louie's in LaGrange on the 6th. The next day catch me with Gravel & Grace at the Waterwheel Saloon in Sonora. If you haven't seen us yet, this is a great opportunity, I share vocal duties with a young lady named Ava Grace who is a Junior at Oakdale High.

Local Blues and Zydeco outfit Blues Box Bayou Band is heading out to Yolo County to play the Crayfish & Catfish Fest at the Fairgrounds in Woodland. If you can make it, I recommend that you do.

The Realtors Association Picnic in on the 12th at the Oakdale Country Club, Gravel & Grace will be there making some pretty sounds. On the 14th you can catch Rick Estrin & The Nightcats will be at the B Street Theater in Sac. The SRV Experience is happening at the Black Oak Casino if you like to get your blues-rock on. 

Barkin Dog Grill is hosting a Blues night on the 20th with local favorite Gary Gervase & Kickstart Blues Band. Jumping ahead to the 24th you can catch Blues veteran Coco Montoya at the B Street Theater in Sacramento Or wait a couple of days and see young up and comer Christon "Kingfish" Ingram on the 26th at the same location.

On the last weekend of the month, St Stanislaus School is having their annual carnival. I will be there on Friday the 27th with Big Earl and the Cryin' Shame but keep your eyes open for a full weekend of bands and fun for the whole family. I hope you all have a great month and I hope to see you out at a show.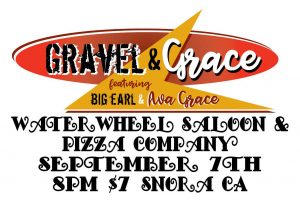 About the Author: BigEarl