ChefView: Romance is Just A Crepe Away
by Brandilyn Brown
Photos by Michael Mangano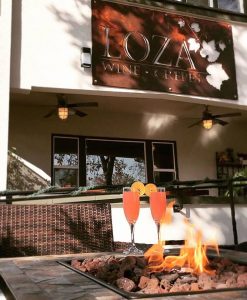 Looking for a special Valentine's evening?  Something delicious and exotic , served with wine and dessert in a romantic European atmosphere? Me too! And I found it! Loza Wine and Crepes in Turlock, owned by Yelena Tsymbal, has been open less than a year. The name "loza" comes from the Russian word for grapevine, paying homage to her Ukrainian heritage. Her chef Ryan Kendall melds Russian and Portuguese recipes together to create delicious plates you will talk about for weeks.
Yelena  didn't always plan on owning a restaurant. They originally wanted to open a tasting room for the family wine business, but when the city told them they also had to serve food, they settled on crepes. Growing up, the family of 11 siblings would help staff their honey booth at the  farmer's market, and they were often near the crepe vendor, where Yelena  fell in love with crepes.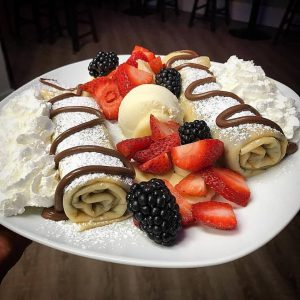 Their selection of crepes ranges from sweets you know and love like Nutella and bananas foster, to veggie and meat concoctions made with Ukrainian recipes you won't find anywhere else.  Your whole experience will be a delight- from the drink selection to every delectable bite!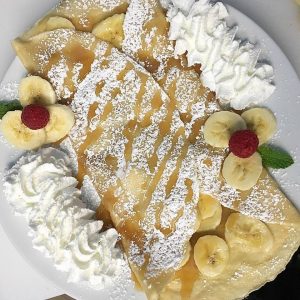 The coffee is always hot, and the lemonade is made daily using locally grown, fresh  lemons. Try the fruit kompote if lemonade isn't your thing, and for those of us seeking a refreshing adult beverage, try a mimosa or a glass of Tsymbal's Honey Wine. If you want to share a lunch with friends, try the cheese plate. It is huge and is a great way to sample several treats, including a chunk of honeycomb!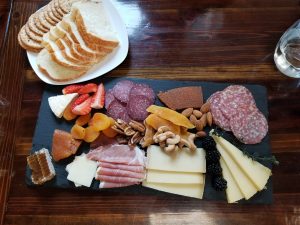 When it's time to pick your main dish, you can't go wrong with any of the crepes! The Butter Delight is made with Irish butter and has the perfect amount of cinnamon and sugar. There are plenty of vegetarian options, like the Garlic Black Pepper Mushroom (my personal fav), or the Grilled Veggie. Anything with the Russian dressing is phenomenal; it's a sauce as delicious as it is complex.  It is the finishing touch on many of the savory crepes, giving a hint of sweet with a little kick of spice to their already delicious crepe recipe .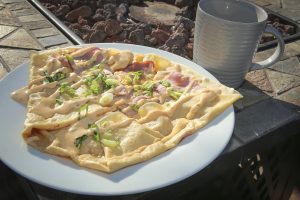 When I asked Yelena why her crepes taste different than any other crepe you can get in the valley, she shared her family secret: the base of their batter is seasonal beer (currently a winter lager) and Greek yogurt, which gives the crepe a creamy soft texture, just like European crepes.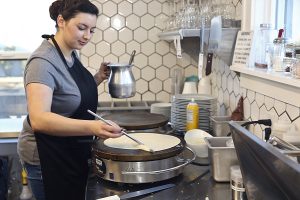 If crepes are not something you crave (are you sure you have a pulse?) you should try their crab cakes or their chicken dumplings. Once you dip a bite-sized dumpling into sour cream, you'll never want to eat anything else again.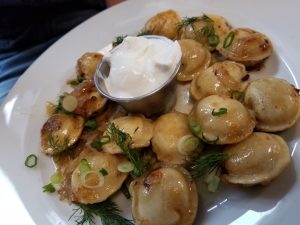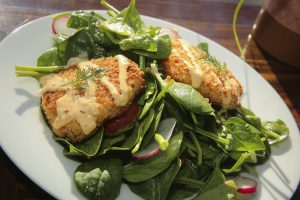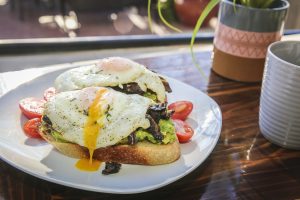 Most ingredients are fresh from the farmer's market, but some items are purchased from other Main Street vendors , such as the sweet bread used to make the French Toast. Nothing beats fresh from the farm, unless of course you're supporting another local business! You also can't get healthier than their kitchen. There are no microwaves or fryers: each dish is made from scratch and brought directly to your table. Food made this fresh is worth the wait!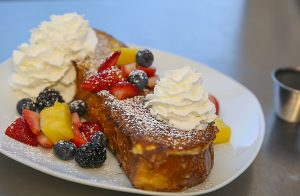 Not only do Yelena and Ryan run the restaurant together, they are the cutest couple you'll ever meet! And the Valentine's dinner they're planning for you is the romantic evening of the month you're looking for. It will consist of a 5 course meal, complete with appetizers and dessert, for only $65 per couple! This cute little venue is going to sell out fast, so call them today!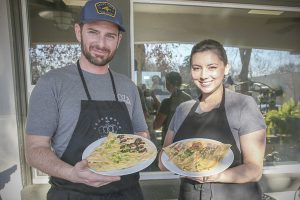 601 E Main St, Turlock, CA 95380
(209) 652-5839
Monday 11am to 2pm
Thur & Fri, 11am to 2pm and 5pm to 9pm
Sat & Sun 8am to 3pm
Closed Tuesday & Wednesday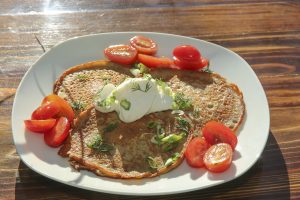 Comments
comments
Bring on the rain, and a bottle of Wonky & Wry's Honey Braggot Ale. Loves to roast marshmallows over a fire. Enjoys the mix of cigars and whiskey.