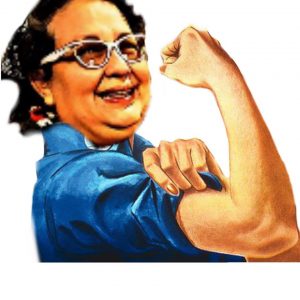 by Felicia Aleman
Hello, hello, hello. Congratulations to Serena Gamboa–the Spicy Latina–for her win at the 2018 Modesto Area Music Awards (MAMA) for Best 
Comedy
. Serena was born and raised in Modesto and has been performing and producing shows for five years. She was raised by her dad, an ex-Marine/ex-cop, so she has a love for veterans and regularly produces benefits for veteran's groups. Serena is also a cannabis advocate due to her own experiences with cannabis for her epilepsy and works with Weed for Warriors. This advocacy has led her to create her own private label hot sauce. Please join me for an extended interview with Serena on the Modesto 
View
 website as she is my guest on my video show Run the Light.
Speaking of interviews…apologies to Marcus Peverill. He was my guest on Run the Light for October, however, the video was not shared due to technical difficulties. Marcus will be rescheduled for December. In the meantime, he is probably performing somewhere near you so find him on Facebook and see a show.
You may be thinking: hey, I think I could be funny, I could get an award. Well, comics get started at open mics and there are a lot more open mics in the 209 (Francesca's in Patterson, Finnegan's in Stockton, Clarion in Modesto, Fired Up Grill in Ceres and the Blue Horse Lounge in Ceres to name a few), but you may be too shy to ask how to join in. Well, here you go. A crash course in open mic:
1) The standard time at a 209 open mic is 5 minutes so you should try to have that much time ready. Less is okay–just don't go over. 2) Show up when sign ups start. 3) Put your name on the list. 4) Introduce yourself to the host so they'll know you're nearby when it's getting close to your turn. 5) Go up on stage. 6) Keep the microphone in front of your mouth and speak into it—no really, remind yourself, you'll forget. 7) Watch for the light from the host that is your cue to leave the stage 8) leave the stage. 8) Don't get mad if the host mispronounces your name. I'm sure you shall be so famous we will all know you are Po-TAH-to head, not Po-TAY-to head, in the meantime, have a seat, Bub. Easy peasy. Come on and try it out. Happy Fall, y'all.