CREATIONS, Choreography in America
• May 14 to 23 LIVE at the Liz and Royal Robbins Studio
5033 Pentecost Dr. 95356
Tickets: http://www.centralwestballet.org/cwbevents.html
Choose your dates and times!

See this exciting and entertaining program up-close!
• Pictures at an Exhibition ~ Mussorgsky's famous suite as interpreted by our talented artists.
• Love Duets ~ a lyrical ballet full of inspired moments.
• L'Arlésienne ~ Bizet's renowned suite made famous from the opera Carmen. Passionate dances set to inspired melodies!

Dancers: Brooke Darby and Mario Vitale Labrador, Gabriel Ceballos Studio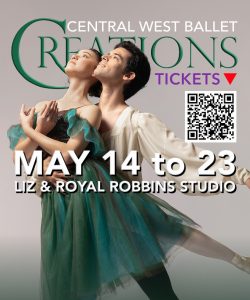 #creations #ballet #dance #studio #centralwestballet #love #ModestMussorgsky #GeorgeBizet #Pictures #exhibition #awesomeness #energy #liveperformance
ModestoView features contributors from our community on a regular basis. We enjoy and welcome these honorary ViewCrew members. If you would like to message them, email to info@modestoview.com