FitView" Tennis Anyone?
By Efren Martinez
As we move forward into a New Year I can only be extremely optimistic. I anticipate a fast end to the Omicron surge and remain hopeful that we may finally see an end to this terrible virus. Much of January I spent trying to figure out ways to best enjoy fitness while still keeping myself and our community safe. One day as I was driving by many of the Tennis Courts in our area I thought, why not Tennis? It's outside, spacious and you can really get a fantastic workout while sharing time with others. Another added benefit to playing tennis is that it provides much of the sunshine our body needs. That natural Vitamin D the sun gives us is a plus to enriching a healthy immune system.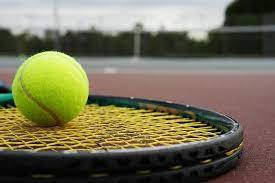 Honestly you don' have to be a tennis pro or even very good to play. The truth is the worse you are at it the better the workout can prove to be. You can get a great workout just chasing after the ball trying to hit it while having fun. You certainly can have a great time just being out there trying something different. It can be a great diversion to your routine workout regimen. Friends the weather was exceptional last January and even if February doesn't turn out to be a carbon copy it doesn't matter. You can still get out there in the chill of a cold morning or night and quickly warm up chasing the ball while getting in some healthy outdoor fitness. So try one of the many tennis courts available in our parks all around town for free. The sporting equipment need is minimal to purchase or think of borrowing from a friend to try out. Cheers to your health!
I answered the call back in 1983; mixing Music and Entertainment with an eccentric European style has always come easy for me. In the early 80's I was the Disc Jockey for most of the high school dances in Modesto. In the late 80's I found myself in Hollywood working as a dancer and sound engineer for various professional recording industries. In 1990 my wife of 25 years and I started (The Quake Mobile DJ ®) which was seeded from San Francisco's 1985, The Quake, radio station that only lasted a short while on the air. 26 years later The Quake Mobile DJ is bigger & better than ever in the Entertainment industry. Real-Estate, photojournalism, event promoter, saving animals, travel and fitness are a few other of my interests. I also enjoy motivational speaking to children and to those who are struggling with addiction. In my life, I have always been a very direct person and once I see a goal I won't quit till I've achieved it. But out of all of the above I feel in my heart that the best inspiration in my life is my wife and my love for the faith that I practice. Phil 4:20