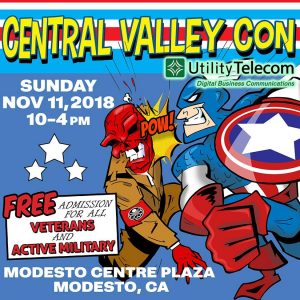 GEEKView
: Central Valley Con
By Middagh Goodwin
There are a ton of Pop Culture Conventions, actually just about every weekend in Northern California. Sometimes it is hard to choose which one to choose. For a one day Convention, you cannot beat Central Valley Con. With so many options for an event to be successful, one has to consider a lot of details, and sometimes they might have to change the date. Because of this Central Valley Con has moved back a month to November 11th and being Veterans Day all service men and women along with kids under 12, get in free. It will once again be at Modesto Centre Plaza and run from 10-5 pm. Advance tickets are $5 or $10 at the door day of show.
As expected with any StocktonCon Presents events there will be a ton of great vendors with just about anything your geek spirit might be looking for from Pops to Comics, Classic Toys to the latest craze and everything in between. Also, they have one of the best Artist Alleys anywhere featuring some of the best local, and up incoming artists, you will find anywhere.
No Con is complete without special guests and CVC has some phenomenal ones. Don't miss meeting with and getting something signed by WWE legend Billy Gunn from Power Rangers Kerrigan Mahan,, Voice Actors Katie Leigh(Darkwing Duck/Lego Star Wars/Mupet Babies) and Will Ryan(GI Joe/The Land Before Time), Scott Koblish, best known for drawing Deadpool to name just a few.
Expect some great panels with many of the special guests to happen throughout the day. There is always a costume contest near the end of the convention so don't put away those Halloween costumes just yet. There are prizes for both kids and adults and usually honorable mentions or judges choice.
If you have never gone make sure to attend this great event celebrating its fourth year and for everyone else who has already caught the con-bug, I will see you there. For more info check out 
www.centralvalleycon.com
The Tracy Comic Show and Reptile Expo is now ConEX and has moved to Pleasanton at the Alameda Fairgrounds, November 17th and 18th. For more info check out 
www.becomeonevoice.com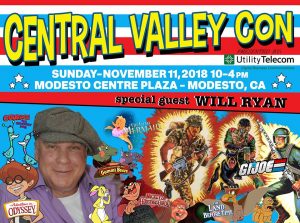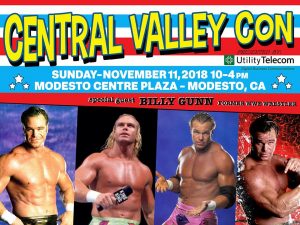 Middagh Goodwin LIVES Music. He has been booking and promoting Music, Art, and Comedy in the Central Valley for years. He ran the award-winning Plea for Peace Center in Stockton for 5 Years and has booked bands from A-Z. In addition, he is the managing editor of ModestoView and writes the MAMAView and GeekView. Middagh works with the Modesto Area Music Association and books Music in the Plaza. In addition, he owns and operates Graffiti-Con, where cars and pop culture intersects. More recently, Middagh has been working with the Graffiti USA Classic Car Museum, helping to create unique events that help raise funds and awareness of the museum and its mission. On top of that, you can tune into one of two shows that Middagh Goodwin hosts on KCBP 95.5 FM; This is SKA and MAMA Radio.