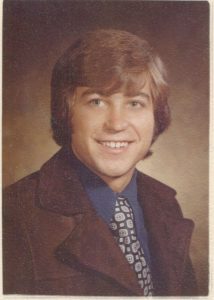 Ron Pippin
Downey High – 1975
His high school car was a 1929 Ford Model A with a Flat Head 8BA V8. After high school, Ron went to work in the construction industry while attending what would become the Construction Management Program at Sacramento State. Ron would continue his career in Institutional and industrial construction, eventually starting his own business along with his brother Larry, where he continued for the next 25 years before retirement.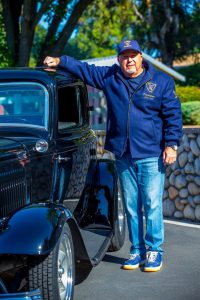 Ron joined the Faros Car Club in late 1972 following his two older brothers, Larry and Terry, where he has remained a member until this day, "once a Faro always a Faro". He is currently the president of the Faros car club. He also sits on the board of directors for the Graffiti Classic Car Museum, along with a group of very dedicated board members and advisors.
Ron never left the Modesto Car Culture since high school, collecting cars, vintage gas, oil and auto-related signs and artefacts. His collection ranges from correct cars to street rods to vintage motorcycles.
Ron married his "very patient" high school sweetheart Lori (Stabelfeld). Lori enjoys the car culture along with their daughter Jennifer, son Marcus and their families.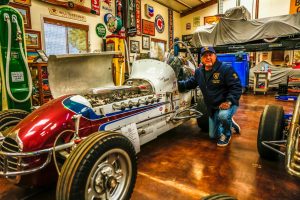 Ron raced SCCA Road Racing for several years and was the SCCA Sacramento chapter Street Touring U champion in 2006.
With two Brothers involved with the Modesto car culture in high school, they wrecked each other's cars, blew clutches and raised all kinds of havoc. They got pretty good at hiding damaged cars from their dad. Being the "little brother" Ron would get away with way too much.
On one occasion in 1974 Ron loaned his car to his good buddy so that he could take out a girl that was not his girlfriend (incognito) so Ron rode his buddies Kawasaki 500 Mach 3 motorcycle for the evening. Ron had a few beers that evening and ended up driving the Kawasaki through a McHenry Avenue motel wall coming to rest on the toilet in the motel. He also was escorted home by the police on more than one occasion, back when they would escort you home and have a word with your parents. On one occasion this resulted in his brother Terry's driver's license being taken away by their dad, his guilt was that he gave Ron a ride home, go figure.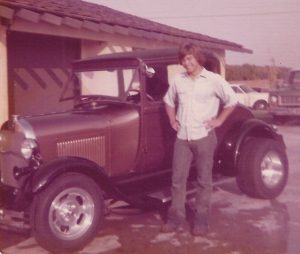 Back then the cruise was McHenry Ave., 5 points to McHenry Village, the village being the gathering point to see what was going on for the evening, you never made plans prior to the cruise as the evening would always develop as the night went on. It was good clean fun, most of the time, reference being escorted home by the police.
Ron credits his two older brothers Larry and Terry and friends in the car culture for his continued interest in the history of Modesto's Graffiti era. The guys that were involved in the culture at the time are lifelong friends to this day. "It really speaks to the Modesto area car culture that develops and maintains these lifelong relationships"             
Chris Murphy is the President and CEO of Sierra Pacific Warehouse Group and Publisher and Founder of ModestoView Inc. Chris worked globally in the cycling industry returning to Modesto in 1996. He is also the founder of the Modesto Historic Graffiti Cruise Route, Legends of the Cruise Walk of Fame, Modesto Rockin' Holiday, the Modesto Music History Organization and co-founder of the Modesto Area Music Association. Chris is married to his artist wife Rebecca since 1985 and has two daughters Madison and Abigail, both graduating from Modesto High and UC Berkeley. He is lead singer and guitarist for his band, Third Party that donates their performances to non-profits.