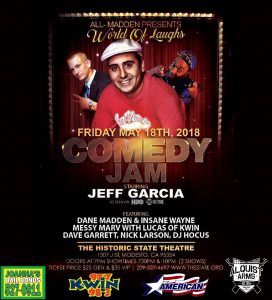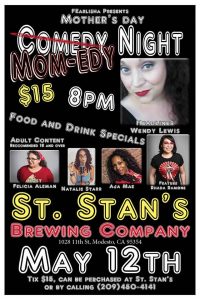 ComedyView Hello, hello, hello.
By Felicia Aleman
May is here and I'm making like a tree and branching out.  This month I will be producing comedy shows for the first time.
Comics perform/"train" and try out new material at open mics. Modesto hasn't had a comedy-only open mic in the 2+ years I have been performing.  In addition, I am semi car-less making it hard to travel, so I am excited to announce that I will be hosting a new monthly open mic at Stanislaus Brewing starting 
May 8
. The show will consist of an open mic from 7-9 where comics will work on new material and a showcase from 9-10 where comics will do their more practiced material. I am looking forward to seeing new faces and bringing friends from Sacramento and the bay to Modesto to show off my hometown. Modesto and the 209 have some really talented comics and I hope that you will support them.
This month my video interview is with Dave Garret. Dave will be a part of the World of Laughs Comedy Jam headlined by Jeff Garcia on 
May 18
 at the State Theater in Modesto. Whether on stage or his dating profile Dave is brutally honest. We talk about his dark humor, his skateboard and I'll ask if honesty really is the best policy when it comes to a dating profile. Dave and Rocco my cameraman will help me continue working on speaking better…umm, I think.
No Cover
May 1st & 15th
: Cheroot Comedy Showcase at Cheroot 
8 p.m.
–Anthony K
May 3rd
: 
7 p.m.
 Thursday Night Supper Club with Poorhouse Millionaires and Friends Music and Comedy at Ralston's Goat–
Felicia
 Aleman
May 8th
 Open Mic 7-9, showcase 9-10, Stanislaus Brewing–
Felicia
 Aleman
May 15th
: 
9 p.m.
 Ha Sauce Delight at Pizza Factory, Turlock–AJ DeMello
May, 30th Comedy at the Outpost Saloon at Outpost Saloon, Waterford–Jimmie Menezes
Shows with Cover
May 12th
:  Mother's Day "Mom-edy" Show, 
8 p.m.
 Stanislaus Brewing starring Wendy Lewis, $15–
Felicia
 Aleman
May 18th
:  World of Laughs Comedy Jam starring Jeff Garcia, State Theater, Modesto, 
7:30 & 10 p.m.
 shows $25/$35–Dane Madden
May 19th
: Bella Vista Comedy & Music Show, Bella Vista Cucina, Stockton, 
7:30 p.m.
 $10 starring Lloyd Templeton–Olivia Malekos
209-er's On The Road
May 25
 Vikings MC Comedy Night, Hayward, 
8:30
 no cover,–Jimmie Menezes
Comments
comments