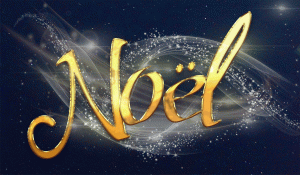 NOËL – THE MUSICAL HIGHLY ANTICIPATED NORTH AMERICAN TOUR COMES  TO THE GALLO CENTER THIS DECEMBER 17TH  
BEST SELLING CHILDREN'S AUTHOR AND AWARD-WINNING COMPOSER TEAM UP TO CREATE A MAGICAL NEW HOLIDAY MUSICAL!
NOËL, the stunning new Holiday musical from top-selling children's author Eoin Colfer (Artemis Fowl) and preeminent Irish film composer Liam Bates is coming to North America! Having met with huge critical acclaim overseas, the show's producers are now planning its first North American national tour, which will play the Mary Stuart Rogers Theater at the Gallo Center For The Arts in Modesto, CA on Monday, December 17th at 7.30pm. NOËL will play 25 dates across the U.S. this year, just in time for the Holiday season.
NOËL, set in modern day London, tells a heartwarming tale of a little girl (Noël), who is preparing for her starring role in a school Christmas play when her mother suddenly disappears. She keeps her mother's disappearance a secret and embarks alone on a quest to find her. Along the way, she befriends a diverse group of homeless characters that have lost their way in life, including Nick, who believes the world has forgotten the true meaning of Christmas. Noël's bright innocence and unwavering belief in finding her mother, inspires Nick to embrace life once more, finding love and hope in himself and in the world.
NOËL The Musical is a wonderful family show, filled with mayhem, magic and music! The show's creators are the extremely talented Eoin Colfer (book) and Liam Bates (music). Eoin is a NY Times bestselling author who has achieved international acclaim for his hugely successful series of children's books Artemis Fowl, which has sold over 25 million copies worldwide and is currently being adapted into a major motion picture by Disney, due for release in 2019. Liam Bates is an award winning Irish composer, orchestrator and conductor. A student at the Royal Academy of London, Liam received master classes from composer Leonard Bernstein. He has composed music and songs for movies such as Don Juan De Marco, Leap Year, Last Passenger and Earthbound.
NOËL is directed by Sam Scalamoni, a highly accomplished and award-winning director. Mr. Scalamoni is the current director for the hugely successful Elf the Musical National Tours. The talented Christine Peters (ELF, Miss Saigon) is responsible for the Set Design and the Production is joined by Choreographer Charlie Sutton; Musical Director Gary Adler; Sound Designer Joshua Reid; Lighting Designer Brian Nason and Costume Designer Wendi Zea.
NOËL – The Musical is produced by Steve Peters and Michael Londra of VenuWorks Theatricals.
Monday | December 17th| 7.30pm
Gallo Center For The Arts| Modesto, CA
Tickets On Sale Now!
Tickets available at https://www.galloarts.org or by phone 209-338-2100
Ticket price [$19-$69]
For more information visit the website at www.noelthemusical.com
Comments
comments
ModestoView features contributors from our community on a regular basis. We enjoy and welcome these honorary ViewCrew members. If you would like to message them, email to info@modestoview.com