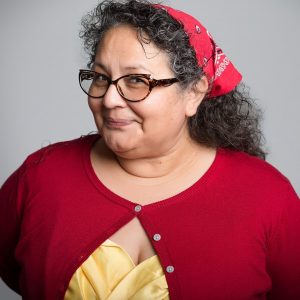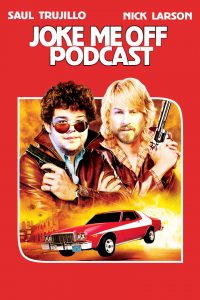 ComedyView
by Felicia Aleman
Hello, hello, hello. There are bells to be jingled, halls to be decked and toes to be mistle-ed.  So you ask "How can I enjoy fabulous local comedy when I'm so busy?"  PODCASTS!  Listen to podcasts anytime online and get to know your local comics from the privacy of your own home with the option of being pants-less which is generally not allowed in public spaces. Most podcasts follow a traditional talk show format.  There are also more specific podcasts like The Walt Vault which follows all things Disney and Good Reel Hunting which discusses movies from the 90's.  A list of podcasts from the 209 comics is at the end of this column.
This month I interviewed Rhoda Ramone, host of the Good Reel Hunting podcast as well as the comic responsible for the very funny video that introduced the Best Comedy Nominees at the 2017 MAMA Awards. Rhoda started Good Reel Hunting because of her love of films and has enjoyed getting to know more about her guests.  Rhoda is just starting her podcast and bought used equipment–a mixing board and 2 mics but added that there were many options available in all price ranges.  Please see the full interview and find out why I am calling my interview segments "Running the Light" and ironically for the first time don't run the light. The videos are available at ModestoView.com and the Modesto View YouTube page.
FREE SHOWS:  Every Tuesday 
7:30
 Cheroot Lounge Modesto; 1st and 3rd Wednesday Ralston's Goat Modesto Poorhouse Millionaires and Friends music and comedy; Wednesday 6th  
8:30
 Pizza Factory Turlock You'll Joke Your Eye Out Roast Battle; Wednesday, 27th 
8:30
 Outpost Saloon in Waterford.  SHOW WITH COVER: Saturday 16th 8 with headliner Taylor Tomlinson from Last Comic Standing at Strings in Manteca.