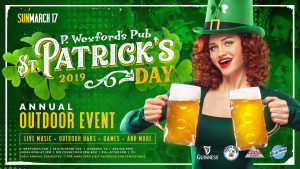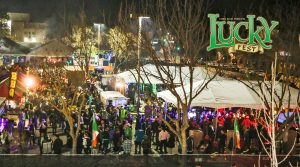 St Patrick Celebrations
By Middagh Goodwin
LuckyFest is the biggest St Patrick's Day party in the Valley with 25 "pubs" built from the ground up for one day. Happening each year in the rear parking lot at Modesto Centre Plaza, this year on Saturday, March 16th. Live music, Dj's and fun activities for those over the age of 21 for just $12 in advance doors at 6 pm.
Mitchell's Harley Davidson St Paddy's Day Celebration is taking place on Saturday, March 16th this year 10 am – 5 pm. Don't miss out on your chance at some great prizes and tasty food during our St Paddy's Day Celebration. See you here!
Also on Saturday at Whiskey Barrel Tavern in Stockton join Barroom Heroes(Dropkick Murphy Tribute), TV Static and Red Devil Lie for a St Paddy's Party. Great music Irish food and Guinness on tap.
Fans of Hip Hop will enjoy Tilted Turtles "All Green Party" starting at 10 pm. Young Dru, Tweety Bird, Izzy R and more will all be performing live.
Do you want to celebrate with some country music? Head on over to the Rusty Nail where the Kenny Frye Band will be performing for the St Paddy's Country Bash.
Go back and time and celebrate with a more traditional street fair at Murphys Irish Day. One of the premier annual events in the Mother Lode is Murphys Irish Day.  Each year on the third Saturday in March, thousands of people from Northern California and beyond gather in the historic gold rush town of Murphys to honor its Celtic heritage and to celebrate as only the Irish can. Its picturesque Main Street is filled with booths offering handcrafted items, original art, photographs, tasty food, wine, and other beverages. FREE EVENT!
St Patrick's Day proper head on over to P.Wexford's Pub for their annual celebration. Live Music, an outdoor bar, games and so much more. Festivities start at 2 pm.
March 17th for St Paddy's Day at the Twisted Pig will be open at 10 am for Corned Beef and Hash to start the morning off right. They will also have a Bloody Mary Bar with all the fixings. Their special St Patrick's Day menu along with food and drink specials starting at 11 am. Who Wants The Crown & Live Again will perform live.
The Udder Place in Turlock is having a St Patrick's Day Party on Sunday, March 17th as well. Starting at 11 am with performances by Van Diemen's Band, Weekend at Jimmy's,  Jeff Ricketts and Mondo Mariscal. Expect some great drink specials, Corn Beef sliders and more.
Shamrock Sip & Shop at the Elk's Lodge takes place on St Paddy's day 12 am to 4 pm. Come celebrate Sip & Shop this St Patrick's Day with 35+ Vendors/Crafts. The bar will be open for purchases, Food, Raffles, Prizes, Dress to impress to earn more raffle tickets. FREE EVENT!
Comments
comments
Middagh Goodwin LIVES Music. He has been booking and promoting Music, Art and Comedy for years in the Central Valley. He ran the award winning Plea for Peace Center in Stockton for 5 Years and has booked bands from A-Z. Middagh is beginning 2016 with a new position at the Gallo Center for the Arts and celebrating Beat Happy! Music's 30th Anniversary. Read the MAMAView every month and a the Needle Drop 52 Records 52 Weeks.