BrewView
Sweets for your Sweet (and You Too!)
by Brandilyn Brown and Christopher Mitchell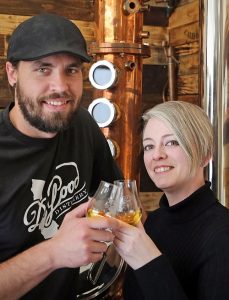 To help you woo your special someone this month, we thought we'd share our perfect "going out" & "staying in" pairings of our favorite sweet drinks and treats. Whether you're taking out a partner, beloved family member, best friend or you're inviting this person over for a special date, try one of these delicious concoctions to show them just how much you appreciate them. Your tummy will be on Cloud 9!
If you're going out, try these scrumptious delights from Bistro 234 in quaint downtown Turlock. It opened in 2001 and we only recently discovered it. We think you will love this place as much as we do. (Their patio is also dog friendly!) We got the Sugar Cookie Martini featuring Bailey's Irish Cream (with a candy sprinkled rim!) with a slice of cheesecake. The cheesecake usually comes with berry topping or chocolate drizzle but we couldn't decide so we did both. Their macaroons with vanilla dipping sauce are also worth mentioning. Whatever you pick we guarantee you'll love it.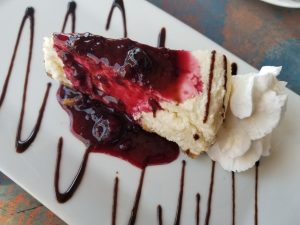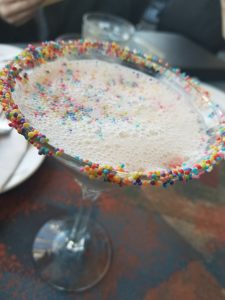 Bistro 234
234 E Main St, Turlock
(209) 668-4234
Or maybe you are doing a night in! Pick up a bottle of Jeremy Wine Co.'s Chocolate Port and a bag of Caramel Nuggets from Stewart & Jasper. This pairing of chocolate and caramel is sure to satiate your sweet cravings. We've been a big fan of this port since we first had a glass at Lodi Wine & Chocolate Festival in 2013. Jeremy Wine Co. is Stewart & Jasper's monthly sip night Thursday February 7th at 5pm, so if you don't want to buy the bottle without sampling it first, come try it! But we know you'll like it because it's super delicious! Sip on friends!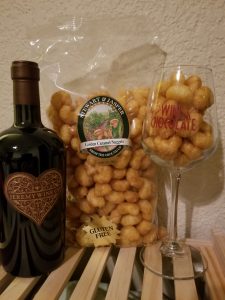 Stewart & Jasper
McHenry Village
1700 McHenry Ave, Modesto
(209) 577-6887
Bring on the rain, and a bottle of Wonky & Wry's Honey Braggot Ale. Loves to roast marshmallows over a fire. Enjoys the mix of cigars and whiskey.