BargainView: Happy Xmas
by Monica Barber
So this is Christmas… Another year is over and what have you done? The barista calls my order as John Lennon croons the eternal question over the airwaves.  This morning as Ms M sips her Americano she wonders where the year has gone. The streets are littered with autumn foliage and it's hard to believe we're saying goodbye to 2016 already. Since Christmastime is here and almost New Years we must look forward with our hearts to share our gratitude and generosity with all. You can afford to ring those jingle bells because there's deals to be found as you enjoy the holidays.
Christmas is a treat in downtown Modesto! On December 3rd check out the Dickens Faire, from 7am-3pm. This time honored annual event transports you back to the Victorian era with costumed carolers at the McHenry Mansion amid food and craft vendors. Decorated in Christmas joy, the Mansion will be the best place to enjoy a horse-drawn wagon ride while sipping a hot cocoa! Don't miss the chance to see some of Modesto's finest craftspeople. More info: www.mchenrymuseum.org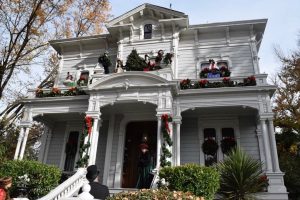 It's not Christmas without the parade and a "Rockin' Holiday" celebration. The annual Celebration of Lights Parade will make its way past the Mchenry Mansion in downtown Modesto until it ends just in time for the 3rd annual Rockin' Holiday in 10th Street Plaza. The parade will feature brightly lit floats, marching bands and holiday cheer that begins at 5:30pm at 15th & I Streets. Rockin' Holidays will be kicking out the fun with Santa and the elves jamming to some rockabilly sounds for family fun with snow falling from the sky down 10th street every half hour! More info https://www.facebook.com/rockinholiday& a full parade route map see http://modestogov.com/553/Holiday-Parade
If you prefer a little word play for the holidays there's the Ill List 12, the popular Modesto Poetry Slam, December 10th at the State Theatre. This event boasts the best of world-renowned and local spoken word artists. Audience participation is highly encouraged at this spoken word throw down. Info www.thestate.org
Everyone is in need of some good holiday fun! Check out the annual SantaCon on December 16th at Firkin and Fox. Get dressed up as Jolly Ol St. Nick or an elf or simply come hang out for this fun pub crawl that's free and open to all 21 and older. https://www.santacon.info/Modesto-CA/
Wave your final goodbye on New Year 's Eve at a soiree that is filled with joy. New Years Eve Comedy Night at the Prospect Theater Project is a change of pace evening that features Chris Teicheira and Anthony K with two chances to catch the show, 7:30pm & 9:30pm. Celebrate the New Year with loved ones and laughter. Tickets: $20-30 Info: 209-312-3463
Happy Christmas & Happy New Year! Kisses, m.
Comments
comments