2017 Stanislaus Artist Open Studio Tour
by Guest ViewCrew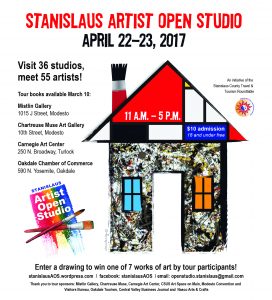 The 2017 Stanislaus Artist Open Studio weekend is April 22 and 23.  Tour will feature 55 artists in 36studio locations in Modesto, Turlock and Oakdale.  Entry to visit the artists is purchase of the $10 Stanislaus Artist Open Studio map booklet, available at the Mistlin Gallery, The  Chartreuse Muse and Modesto Convention and Visitors Bureau in Modesto, Carnegie Arts Center in Turlock, and the Oakdale Chamber of Commerce, and from participating artists.  Students 18 and under get in free with a map holder. Maps will be available through the event weekend, but visitors advised to get map booklets early to plan their route to the 36 studios on the map.
Most stops are actual artist studios, where they create works in a variety of media. The event is an invitation to meet local artists, see the types of art they create, tools and materials they work with, and often large portfolios you don't see in gallery shows.  Art is available for purchase, and some locations will include art demonstrations.  Studios may feature more than one artist.  This is the seventh year for this event, initiated by the Stanislaus County Travel and Tourism Roundtable.
Maps will also be on sale at a special Preview Show event at the Mistlin Gallery, 1015 J Street, March 27, 28, 29.  The Preview Show will feature one or more art works from the 55 participating artists, with the gallery open 2 to 7 pm all three days.  Admission to the preview show is FREE.
Stanislaus Artist Open Studio has renewed the popular Purchase Prize Award giveaway by raffle.  7 art works were purchased from the juried results of early entries, and will be given away in a raffle drawing to entering patrons.  The giveaway Purchase Award Art will be on display during the Preview show at Mistlin Gallery.
Purchase Prize artists in order of juried selection are:   1 Eucalyptus Leaves, Lorraine Nilson 2 Sidewalk Cafe, Tom Donalson,3 Big River to the Ocean, Henrietta Sparkman, 4 Horsetail Falls, Barbara Barbour,
5 Labyrinth, Richard Bradshaw, 6 Beaded Necklace, MJ Kiskinen, 7 Dimensional Man, Jim Christiansen  (Photos included)
Dates:
Maps available at purchase locations March 6 to April 23
Preview Show at Mistlin Gallery, March 27, 28, 29 hours 2 pm to 7 pm
Stanislaus Artist Open Studio Event April 22, 23, hours 11 am to 5 pm both days,
Photos:
Artist Open Studio Tour official map booket cover and poster image
2 to 8   the 7 Purchase Award images listed above in order
Additional photos sampling for studio settings from 2016 SAOS Tour
Comments
comments
ModestoView features contributors from our community on a regular basis. We enjoy and welcome these honorary ViewCrew members. If you would like to message them, email to info@modestoview.com