5 Questions with Jordan Waters
by Monica Barber
It's a late afternoon and there's a crowd in the living room at the Queen Bean Coffee House. Always positively engaging Jordan Waters greets everyone in the room with a smile and a warm hug before turning his attention to suggest we go outside for a sit down.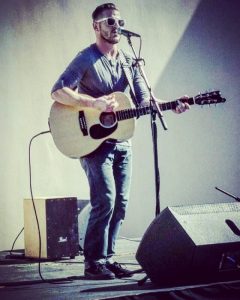 With an ageless energy and passion, Jordan Waters has been playing music for more than half his life. Since releasing an EP Beside Myself in 2014 and becoming a singer-songwriter on the music scene in Modesto, Waters has been working almost every day to pursue his dream. "I think I was raised to have a strong work ethic," he says before taking a sip of coffee and reminding me he has a show in an hour. 
Water's hard work ethic has paid off. Today, he is an in-demand singer songwriter in the Modesto area, MAMA nominated and currently working on releasing a full length album, The Journey in 2017. And he's definitely not ready to slow down. "Basically I'm on this journey to share my music with as many people as I can connect with; maybe on the way see the world and be successful enough to make more music. So that's what you can expect." 
For a moment he pauses long enough for a cup of coffee and to talk about what it's like being a musician, his inspiration and why he enjoys it so much.
MV: Tell us about yourself.
Jordan Waters: I've been in several bands and music projects; "Paper Rockets" & "Late Night Apology," to name a couple. I started performing as a solo artist because I love music, performing, writing and to be honest it's hard to keep a band going. I enjoy getting out there and performing my songs all around. I love to share my music. 
MV: What is meaning behind The Journey? 
JW: The journey is about moving forward when things seem to be going the opposite [direction] and moving through my journey of life and music.
MV: What inspires your music? 
JW: Everyday struggles; from friendships to relationships all the way to seeing humanity being what it has become.
MV: Tell us about the experience of producing your E.P.? 
JW: My EP was driven by some of my favorite songs I had written at the time. It was co-produced by my good friend Enrique Vega. The experience of producing was amazing and having songs on Itunes, Spotify, Pandora and more is really a wonderful feeling.
MV: What keeps you motivated to keep pushing the boundaries with your music?
JW: Life in general keeps me motivated and feelings keep me motivated.
Thanks Jordan Waters! Beside Myself is available on iTunes, Spotify and his website, www.jordanwaters.net
Comments
comments