BrewView: Discover the 108
By Brandilyn Brown and Christopher Mitchell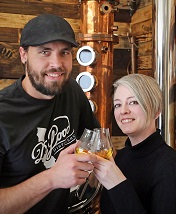 If you're like us, you are always on the look out to try new drinks at new places. But being us, who tend to be oblivious at times, you might drive right past a great place many times before stopping in, not aware of any giant orange and yellow sign that might be posted on the building.
Don't be like us, been on the look-out for new places, explore every nook and cranny, because that is how you will discover your new favorite watering hole.
That is how we recently discovered the 108 Sports Lounge in Riverbank. We've driven by it likely 108 times on our way to Oakdale or Sonora, but there's no reason you couldn't make the 108 Sports Lounge your final destination of the day instead! Not a dive bar, nor a tavern or saloon, not quite a mezzanine either-this place is in a class all of it's own. The atmosphere is sleek and modern, with soft black pleather couches, pool tables, and an entire wall of dart boards. Did we mention the TV's? Dozens of them. All to entertain you with any sport you may want to see.
And if lounging isn't your thing, fear not, what you really come here for are the drinks. There are over 900 liquors on hand from around the globe, and 30 beers on tap that rotate constantly. They were the first bar to serve beer from our favorite Oakdale brewery, Last Call, which is currently tapped alongside Belching Beaver and Angry Orchard, some of our other favorite brands.
Nicholas (Nick) Mejia, bar manager, and his team of bartenders, welcomed us for a sample of some lovely libations. When Nick served in the navy, he bartended in New Orleans and Japan, learning tricks and ideas that set him apart. Bringing his knowledge back to his hometown, he paired his concoctions with the smiles and compassion of his staff, becoming a cocktail-loving Justice League. With any alcohol you could ever want on hand, they can make you lit'rilly anything you want. (That was the best Chris Trager impression right there!)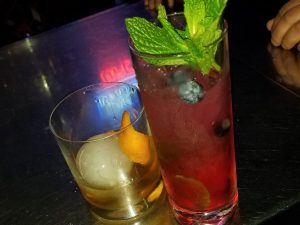 Miriam Rodriguez made us a 108 Cocktail, whiskey with brown sugar and black walnut bitters served over an ice sphere, garnished with orange peel.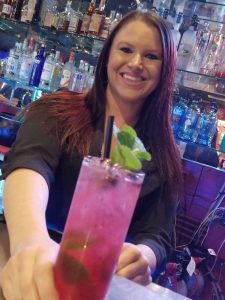 Courtney Rose created the Mother's Day Cocktail for us, a blend of crushed mint and blueberries, hibiscus syrup made in-house, over vodka with a dash of lemonade. Both were delicious and refreshing!
We asked them why they like doing what they do, and we got one of the best answers in the business! They love being a part of people's lives, and celebrating all their good times with them. One Saturday, they hosted a 22 year old's birthday party and a 65 year old's birthday party at the same time! Because anyone of any age (over 21 of course) can take refuge here, relaxing and enjoying a break from the mundane. "We  take care of our community, which is our family, by giving them a home-away-from-home. We give them an experience they don't need to leave Riverbank for." We couldn't agree more!
So the next time you drive down 108, stop in and treat your tastebuds. Billiards is free all day on Tuesdays, UFC is on all the time, bands and comedians often entertain you on the weekends, so it doesn't matter what you define as "a good time", it can be found here: because good people always equal good times!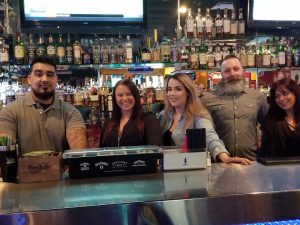 Pictured: Nick Mejia, Miriam Rodriguez, Courtney Rose , Josh Plante, Yolanda Phillps
108 Sports Lounge
3119 Atchison St, Riverbank, CA 95367
Open daily from 12pm to 2am
Follow them on facebook for event info
Comments
comments
Bring on the rain, and a bottle of Wonky & Wry's Honey Braggot Ale. Loves to roast marshmallows over a fire. Enjoys the mix of cigars and whiskey.