BargainView: Change of November
by Monica Barber
November brings the change of time, weather, and it definitely brings some serious cause for Ms. M to stay in and enjoy an intimate evening with a cup of hot chocolate and good company. While she prefers to stay in this time of year, there's always a chance of venturing out from her intimate abode. When leaving the home for fun around Mo-town you want to make certain it doesn't put a kink in your budget.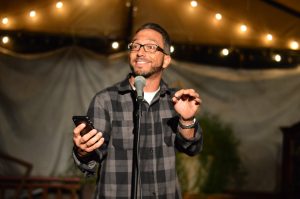 Come out and celebrate Poetry Night at The Queen Bean's 3rd year anniversary on Nov.1st. This local favorite spoken word event welcomes all ages to the party. The free event features Ninja Poet Sam Pierstorff among Whether you want to read or cheer others on, words should never get in the way of a good time so make certain to check it out! https://www.facebook.com/Poetry-Night-at-Queen-Bean-472727216207792/
After you pull the lever, punch the card, or write in your vote on the national ballot Nov. 8, make sure you stop by the State Theater to witness the results of one of the most controversial races in history, the 58th U.S. presidential election. The live community broadcast on the big screen of the The State is a free community event for all. So whether you are a Democrat, Republican or simply intrigued, make your way down & take in a historic evening, www.thestate.org
The long week often needs a reprieve and a night on the town filled with music to elevate the spirit and delights the senses should do the trick. On Nov. 12th, The Spinnaker Lounge welcomes Indie Night with Tyler Platt, Josh Rosenblum, Jordan Waters & The Cazadores and more. An evening of music, drinks and a little dancing is exactly what the soul craves to break the routine. Cover $3. Music starts at 9pm. https://www.facebook.com/events/1802009633388473/
Cold weather makes for some cold outdoor fun! November 19th welcomes back Modesto On Ice to the downtown area for ice skating through January 22nd. The open air rink will once again offer 90 minute skating sessions seven days a week and through the holidays. Slide through the 209 for a chilly good time! Tickets go on sale November 1st! http://www.modestoonice.com/
Shopping for yourself, your home or for others on Thanksgiving weekend is the perfect way to support the local community in Modesto. The 4th annual Mod Shop takes place November 26 from 5-9pm on J Street between 10th and 13th. The handmade market annually partners with local artisans on Small Business Saturday. Come out and enjoy music, good food and cheer among the bustling crowd. http://www.modshop209.com/
Change your clothes but don't change your mind about seeing the town! Enjoy November! Kisses, m.
Comments
comments