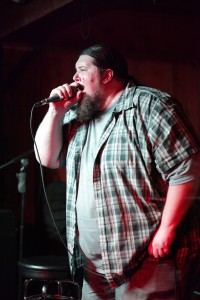 Hello everyone, fall is here and I for one am ready! October is my favorite month because it's my birthday, and this year I am turning 40. It's going to be extra special for sure.
Right out the gate we have two fun options on October 1st: You can check out Rob Hill band at the 50's Roadhouse in Knight's Ferry. It's a fun place and you can always head up a little early and watch the sunset first. Another great option is up at Black Oak Casino AC Miles the talented Blues Rock guitar monster from Fresno is playing all night. Either way you can't lose.
Then we jump ahead to the 8th and Rob Hill band will be over at P.Wexfords, no cover, great food and a huge selection of draft beer.
Also on the 8th is the 3rd annual DB Project fundraiser for the Center For Human Services, specifically for the 2 youth homeless shelters they run called Pathways and Hutton House. I will be performing this year with Big Earl and the Cryin' Shame and for the first time ever we will have a 3 piece horn section. I couldn't be more excited folks. This is my 40th Birthday show and its for a great cause, I really hope you can all make it out.
On Oct 15th is the "Let There Be Music Festival" in Patterson. This event is a benefit for Patterson City School's music departments. They are going all out and hired some great performers from all over the area and Comedian Anthony K is the host. There is something for everyone on the line up Blame Sally, Big Earl and the Cryin' Shame, Morgan Dorr, SRP, Superchargers, Plan Of Action, Los Cadetes De Linares, Banda Nueva Era. More than worth the $10 advanced ticket price.
On the 21st in Stockton you can check out Royce Family BBQ Hot Rod Night with Jeramy Norris and the Dangerous Mood. Jeramy and the boys know how to get down and make everybody get up and dance. Also on the 21st Terrie Londee and the B-4 Dawn Band will be out at Vintage Lounge in Turlock. They play a mix of Soul, Funk and R&B that is sure to get you in the groove.
On the 22nd at the Gallo Center is the Northern California Women's Music Festival. This year features 11 acts, headliners include Zapparella, Dilana, Samantha Fish and Paula Cole. Big Earl and the Cryin' Shame will be there as well.
On the 27th at the Gallo Center Mr Richard Thompson and the Blind Boys Of Alabama will be making joyful noise, this is one you don't want to miss.
I hope to see you all out at a show this October. Be good humans, ya'll.
Comments
comments
About the Author: BigEarl