BrewView: Indigeny Reserve: Cider!
by Brandilyn Brown & Christopher Mitchell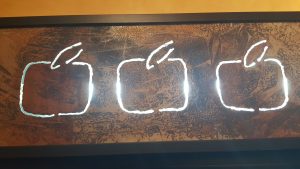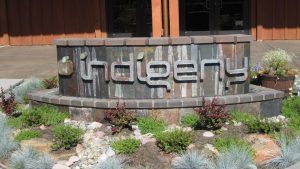 Nestled in the gorgeous woods of Tuolumne County in the city of Sonora, is a barn surrounded by several groves of apple trees. Those groves were purchased by Jay Watson back when Indigeny Reserve was just an idea. At first, he sold the apples straight from the tree, and soon decided to tap into the cider market with an amazing cider recipe. Now it is a national brand, and the barn (aka tasting room complete with gift shop) is an attraction for locals and tourists alike, with picnic tables, outside games, ample parking, tons of shade provided by super old trees, and lush apple groves & grape vines as far as the eye can see. They do facility tours often, so check their facebook for dates and times.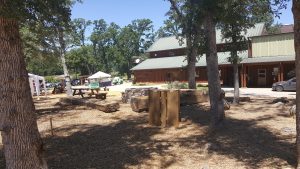 The name "Indigeny" comes from combining the words "indigenous" and "synergy". The company has thrown themselves into reducing, reusing, recycling and re-purposing as much as they possibly can. They bottle in aluminum cans because aluminum is easy to recycle, and doesn't make a mess if one is dropped on the floor like glass. It also helps the product last longer, as aluminum keeps out light. During the distilling process, the isoprophyl alcohol pulled out from the Brandy & Vodka is then reused to keep their fermenting tanks cold.
Organic apples create a wax seal on their skin naturally, and this skin allows the apples to stay fresh and sweet 9-10 months in a fridge. Watson's apples are stored, then washed, dried, juiced, filtered and fermented for 3 weeks. The entire process from picked to bottled is about 7 weeks.
They currently offer several flavors.
The crisp cider is made from granny smith apples, and uses champagne yeast for a dry finish. (Also comes in an organic variety!)
The Harvest Blend is created from a blend of apples grown on 100+ year old trees. It is more mild, and has more sugar, so it is much sweeter on the pallet.
Blackberry is the Crisp recipe with blackberry juice added. Very sweet, smooth and delicious!
And it doesn't stop at cider! They have mastered the art of distilling!
The Brandy is aged 3-5 years in used Jack Daniels casks. It is a blend of all cider flavors, then distilled twice to get a clean, fresh finish.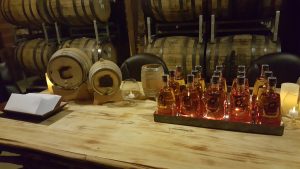 The new Porch Light Vodkas are a combined effort between Indigeny and Traina Foods.
The made-from-grapes vodka is infused for 12 weeks with various dried fruits or veggies. We tried the Strawberry, Apricot, Fig and Tomato. By far, the fig was the best, tasting like a port wine. This would be delicious over ice cream! We enjoyed the sun-dried tomato vodka in a delicious bloody mary, and I think it would be good in salsa too!  Blackberry, black licorice, lemon and lime flavors are coming! So keep checking in!
Indigeny Reserve
14679 Summers Ln, Sonora, CA 95370
Tasting room hours:
Monday – Wednesday: 10:00 – 4:00
Thursday – Saturday: 10:00 – 7:00
Sunday: 10:00 – 5:00
Comments
comments
Bring on the rain, and a bottle of Wonky & Wry's Honey Braggot Ale. Loves to roast marshmallows over a fire. Enjoys the mix of cigars and whiskey.