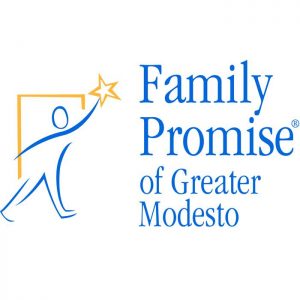 As cold weather sets in, it is time to talk warmer options for those who sleep outside Modesto's emergency shelters, which are geared to singles, not couples or families. Do you know of a family living on the street with children? Next time you see them, please tell them about Modesto Family Promise.
Modesto Family Promise, short for Family Promise of Greater Modesto (FPoGM), is an inspired alternative to splitting up families experiencing homelessness. They have plenty of room to grow to meet demand, because they operate out of volunteer churches.
FPoGM is one of 202 affiliates of Family Promise across the nation. They opened their doors in Modesto in 2005 to meet the need to provide families with a safe place to stay together while they overcome homelessness.
FPoGM is comprised of a local network of hundreds of volunteers from 14 hosting congregations (Almond Valley Christian Reformed Church, Immanuel Christian Reformed Church, College Ave. Congregational Church, Congregation Beth Shalom, Davis Park Church of Christ, Emanuel Lutheran Church, First United Methodist Church, Geneva Presbyterian Church, Heartland Community Church, Modesto Church of the Brethren, Modesto Covenant Church, St. Joseph's Catholic Church, St. Paul's Episcopal Church, and The Well Fellowship) and 3 supporting congregations (Modesto Christian Reformed Church, Neighborhood Church, and Unitarian Universalist Fellowship) who donate their houses of worship as temporary homes, as well as facilities for case management.
This makes it possible to shelter families of any size and composition, including dads and teenage boys, for about one-third the cost of traditional shelters.
Please take a moment to express your appreciation to these 17 congregations who are partnering to fight homelessness through Modesto Family Promise, and find out how yours can join the fight.
While the network of congregations fill in each other's gaps by partnering together to provide shelter, companionship, meals, support, and compassion on a weekly rotating basis, FPoGM case management addresses root causes and works with our community to find solutions to prevent future episodes of homelessness.
New Beginnings, their unique financial education program, teaches basic budgeting, banking and life skills.
FPoGM also provides a Rapid Re-Housing security deposit and short-term rental assistance through the Emergency Solutions grant program.
Their newest component, Renter Restoration, provides for landlord outreach and helps families with evictions reestablish a rental history.
Since 2005, Modesto Family Promise has helped more than 200 families in the Central Valley regain their independence and overcome homelessness, and over 80% of the families served have remained in permanent housing.
Please email director@modestofamilypromise.com, or call (209) 549-9454 with any questions you have about volunteer, donation, or placement opportunities.
Learn more at www.modestofamilypromise.org, and "Like" and follow them on Facebook.
Thank you to Modesto Family Promise and participating congregations for setting aside differences and changing lives as you work to reduce homelessness one family at a time.
You were focusing on prevention before it was cool.
Comments
comments
Maryann Spikes holds an Associate of Arts degree in Humanities through Modesto Junior College, manages the Positive Modesto News page on Facebook, and enjoys coordinating Orchard Park Neighborhood Alliance under the umbrella of Modesto Neighborhoods Inc. Her favorite local coffee shop is the Queen Bean, and she calls Redeemer home. Maryann and her husband, Lee, are very proud of their young men, Ethan and David. Email Maryann at maryannspikes77@gmail.com with CommunityView story ideas.