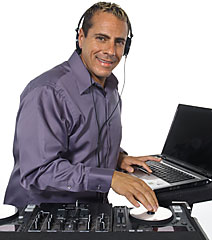 Last year I happened to be in the right place at the right time to catch this exclusive shot of a certain green fuzzy guy trying to steal Christmas from my friend Jackson Carota. As you can see, things didn't work out quite like The Grinch had planned. Rumor has it that he'll be up to his old tricks again this year and we've got a plan to stop him. But first, I want to check in with you on the current state of your fitness lifestyle.
During this Holiday Season, temptation will be all around you. I have faith that you will pass on those second helpings and remember thatalmost everything in life is good in moderation. It's important to recognize this is a challenging season and take an extra spoonful of daily discipline to avoid those unwanted Holiday pounds or a lull in your workout regimen. Perhaps though, you've been working out hard, eating right and still, you've somehow ended up in a rut. If your workouts have become boring, it might be time to change things up and one great way to do this is to get a new fix on your workout soundtrack. Try loading a new mix in your mp3 player to motivate you to the next level.
Being a DJ, I have somewhat of an advantage in being able to keeping it fresh all the time. Several of my friends have asked what music I work out to, so I created The Quake DJ Fitness page on Facebook to share what motivates and inspires me. Everyday I log in and post at least two songs that get me moving during my workouts. So far the site has been a useful tool for many of my friends and I invite you to check it out and see what this DJ in training moves too.
You may be surprised by what you find there, a combination of Rock, European Retro and some digitally re-mastered mixes by The Quake DJ. Come on over to www.facebook.com/QuakeFitness and take what you want. You can also leave suggestion for others and mention what's working for you in your workouts. It has been fun sharing a variety of high-energy music with friends and Quake fans. Break the lull in your workouts and give it a try. Once you've plugged in with a new playlist, you may well find yourself moving in a new direction with great results!
Now, let's get back to that Grinch and his plans to wreak havoc on Modesto once again. As you may know, last year The Grinch was spotted at the Spirit of Giving Run, trying to steal Christmas. Modesto's children nearly caught him, but at the last minute, he jumped on a motorcycle and escaped scot-free. Word on the street is that he'll be back in full force this year with a whole new game plan. So join me on December 10thfor The 2ndannual Spirit of Giving Run and Bike Ride. Enjoy some Holiday fitness, while raising funds for our City Parks & Recreation Scholarship Fund and Interfaith Ministries. Also, don't forget to bring your canned food donations for The Modesto Gospel Mission. For more information on The Spirit of Giving Run and Ride, log on to the Shadow Chase website at www.shadowchase.org or contact Andy Johnson at ajohnson@modestogov.com. Let's knock out the Grinch once more and save Christmas for Modesto kids, big and small!
Comments
comments
I answered the call back in 1983; mixing Music and Entertainment with an eccentric European style has always come easy for me. In the early 80's I was the Disc Jockey for most of the high school dances in Modesto. In the late 80's I found myself in Hollywood working as a dancer and sound engineer for various professional recording industries. In 1990 my wife of 25 years and I started (The Quake Mobile DJ ®) which was seeded from San Francisco's 1985, The Quake, radio station that only lasted a short while on the air. 26 years later The Quake Mobile DJ is bigger & better than ever in the Entertainment industry. Real-Estate, photojournalism, event promoter, saving animals, travel and fitness are a few other of my interests. I also enjoy motivational speaking to children and to those who are struggling with addiction. In my life, I have always been a very direct person and once I see a goal I won't quit till I've achieved it. But out of all of the above I feel in my heart that the best inspiration in my life is my wife and my love for the faith that I practice. Phil 4:20