H.O.S.T House in association with Red Dragonfly Productions presents
H.O.S.T. House Comedy Night
Comedy Benefit for H.O.S.T. House (Helping Others Sleep Tonight)
Starring Dennis Regan
Friday, April 14, 2016 8pm
Federated Church Fellowship Hall
45 S. El Circulo Avenue
Patterson, CA 95363
$15/advance and $20/door General Admission
Doors 7pm
Tickets: (800)838-3006 or HostHouseComedyNight.com
Smart comedy for thinking adults.  Recommended for ages 18 and over.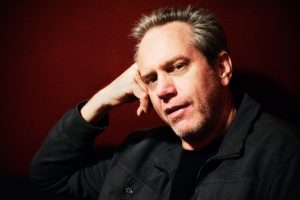 One of American's favorite comedians is slated for a comedy show benefit for HOST House, the Westside's only homeless shelter, on Friday, April 14th at 8pm.
Comic Dennis Regan is one of the elite, few comics with multiple appearances on both the Tonight Show with Jay Leno and the Late Show with David Letterman.
Regan is known for his quick wit and brilliantly funny insights into the world around him and never fails to keep audiences laughing.  He has toured nationally for many years and has headlined large venues and most of the major comedy clubs in the country.  He has also worked as a television writer on the CBS sitcom "King of Queens."
Regan made his 5th appearance on Letterman in January 2012 and has also been on Showtime and Comedy Central.
About H.O.S.T. House (Helping Others Sleep Tonight):
H.O.S.T. House is the only homeless shelter serving the Westside of Stanislaus county.  Formed by a group of residents from local churches and the surrounding community, the orgniazation has banded together to help their fellow citizens who are homeless and the working poor in the area.  Their vision is to end homelessness in their community and they provide temporary housing during the winter season, food, clothing, toiletries and currently service over 60 homeless people.
About Comedy and Red Dragonfly Productions:
Who doesn't need a good laugh nowadays?  Sure, we can always seek out our local comedy club to catch the latest up-and-coming comic amidst the two-drink minimum charges and suggestive material.  But, there is a new trend in comedy.  Featured standup comedy evenings are becoming a welcome addition to fundraising efforts by non-profit organizations.
You can buy cookie dough at your kids' schools, you can buy Christmas wrapping paper from the PTA, you can even buy all the Girl Scout cookies you want.  But, many are looking at a comedy show as a new and fresh way to raise money for a good cause.
Red Dragonfly Productions has a handle on this trend, and focuses on booking comics with smart material for thinking adults who enjoy a night out and like that feeling you get when you've done a good deed in your community.
With a lineup of fresh, insightful, and funny comics known for their well crafted material and relatable humor, these comedy benefit shows are for audiences who appreciate the art of comedy.
Previous shows have included comics Andrew Norelli, Tim Lee, David Studebaker, Don Reed, Ben Feldman, Scott Capurro, Caitlin Gill, Rocky LaPorte, Myles Weber, G King, Mike Pace, Darren Carter, Larry "Bubbles" Brown, Jason Love, Liz Grant, Maggie Newcomb, Ngaio Bealum, Robin Cee, Rocky LaPorte, Ellis Rodriguez, Tom Devenport, Matt Gubser, Karen Rontowski, James P. Connolly, Katsy Chappell, Kat Simmons, Dennis Regan, Karinda Dobbins, Keith Lowell Jensen, Natasha Muse, Dhaya Lakshminarayan, Mike Capozolla, Joseph Nguyen, Priya Prasad, Jeff Applebaum, Dave Mencarelli, Greg Hahn, Marianne Sierk, Don Friesen, Mark Pitta, Derrick Leonard, Dave Burleigh, Robin Cloud, Brad Upton, Johnny Steele, Phil Johnson, Bj Johnson, Mark Yaffee, Adam Strong, David Lew, Maureen Langan, Kellen Erskine, Joe Nguyen, Ryan Stout, Dan St. Paul, Myles Weber, Matt Gubser, Joe Klocek, Sammy Obeid, Dave Burleigh, Brendan Lynch, Will Durst, Johnny Steele, Mark Lundholm, Kortney Shane Williams, Rocky Cologne, Milt Able, Tim Bedore, Kelly McDonald, Carlos Alazraqui, Karinda Dobbins, Dr. Gonzo, Paula Poundstone, Mickey Joseph and many more.
Comments
comments
ModestoView features contributors from our community on a regular basis. We enjoy and welcome these honorary ViewCrew members. If you would like to message them, email to info@modestoview.com