California is in trouble! We are in our fourth year of historic drought, but California feeds the world! We have to be smart with our water useage to save our crops, but one of the factors we don't really think about when it comes to growing our food is our bee population.
Using bee-friendly weed killer is a GREAT way to ensure our bees can harvest pollen without also consuming harsh pesticides and contaminating their hives and their honey. Not to mention that making weed killer at home is SUPER CHEAP.
You will need 1 gallon of vinegar (around $3), one half of a bottle of dish soap (also around $3), and something to mix and spray it with. I used a pump I bought at OSH but you can even use an empty cleaner bottle of some kind, as long as it has been rinsed out VERY WELL.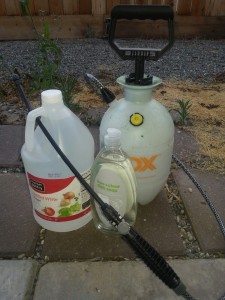 One mixed, drench the weeds stalk to root. If you have tall weeds, you will need less weed killer if you cut them short or weed-whack them first. My back yard, which is mostly rocks, is about 500 sq feet, and I didn't need to spray the whole thing, only the parts weeds were growing. It took about an hour.
This mix takes 2 days before you notice the weeds dying, and it will be about a week before they are dead enough to pull straight from the ground without much effort.
After 2 days: Some green, but starting to yellow and die.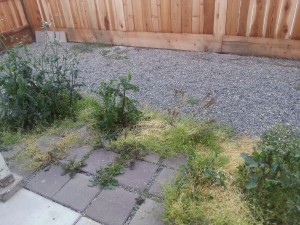 After one week: A few small plants cropped up in this time thanks to some rain we got, but the rest is completely dead and ready to be composted.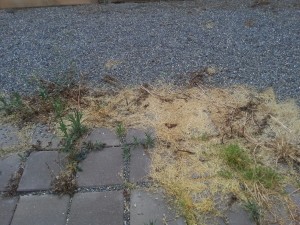 This recipe, which I found via a Google search, is reported to kill everything it touches, and is therefore not safe to use in gardens. I have found that to be true, so use this only in areas you want EVERYTHING to die.
Let's do what we can to save the bees!
Comments
comments
Bring on the rain, and a bottle of Wonky & Wry's Honey Braggot Ale. Loves to roast marshmallows over a fire. Enjoys the mix of cigars and whiskey.